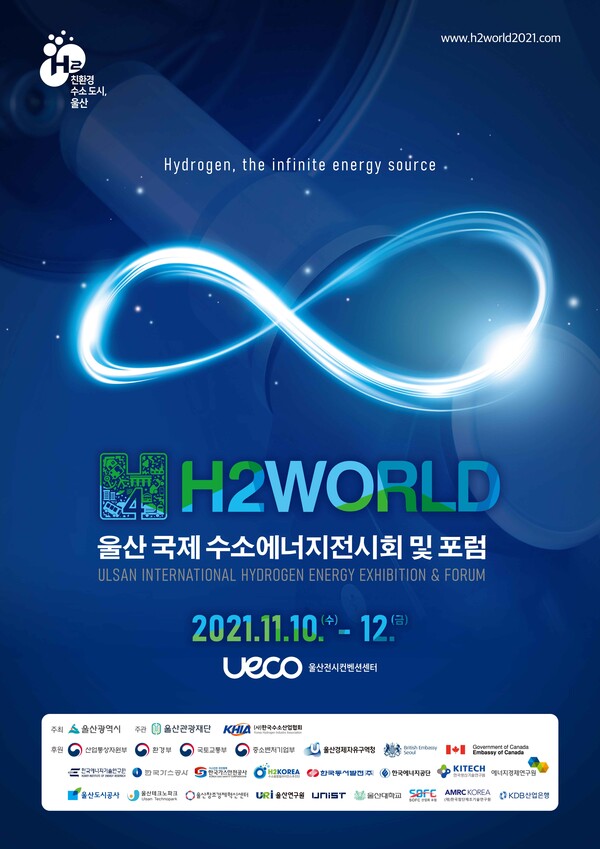 [Digital Today Correspondent Ko Seong-hyeon] An exhibition that can gauge the present and future of the hydrogen industry will be held in Ulsan.
Ulsan City announced that it will hold the '2021 Ulsan International Hydrogen Energy Exhibition and Forum' at the Ulsan Exhibition and Convention Center (UECO) for three days from the 10th. This event is hosted by Ulsan City and supervised by Ulsan Tourism Foundation and Korea Hydrogen Industry Association.
Companies representing the hydrogen supply chain, including hydrogen production, storage, transportation and utilization, and global companies will participate in this exhibition.
Hyundai Motor Group, the representative of the hydrogen mobility field, will exhibit the 2022 hydrogen electric truck 'Xcient', Hyundai Rotem's hydrogen tram, mobile hydrogen charging vehicle, hydrogen fuel cell ship, forklift and unmanned transport vehicle.
As global companies, Emerson of the United States, Howden of England, Heraeus of Germany, etc. in the field of plant solution will participate to enter the domestic hydrogen market.
In addition, domestic companies that have succeeded in localizing hydrogen charging station facilities, equipment and parts will participate and compete. Hyosung Heavy Industries, JNK Heater, Kwangshin Machinery, GTC, and Wonil T&I will participate and showcase their products and technologies.
As a related event, the forum hosted by the Korea Hydrogen Industry Association will be held over three days with four session themes: global hydrogen policy, hydrogen mobility, hydrogen fuel cell utilization, and hydrogen industry value chain.
Ulsan Metropolitan City, where the Ulsan International Hydrogen Energy Exhibition is held, is playing a leading role in building the national hydrogen value chain, including hydrogen production and supply, and fuel cell power generation.
Ulsan Mayor Song Cheol-ho said, "Through this exhibition, Ulsan will take the lead in gathering and interacting with major players in the hydrogen energy field at home and abroad, and will make it a venue to explore how to gather its power within this exhibition."
Author/ Translator: Jamie Kim
Bio: Jamie Kim is a technology journalist. Raised in Hong Kong and always vocal at heart. She aims to share her expertise with the readers at blockreview.net. Kim is a Bitcoin maximalist who believes with unwavering conviction that Bitcoin is the only cryptocurrency – in fact, currency – worth caring about.