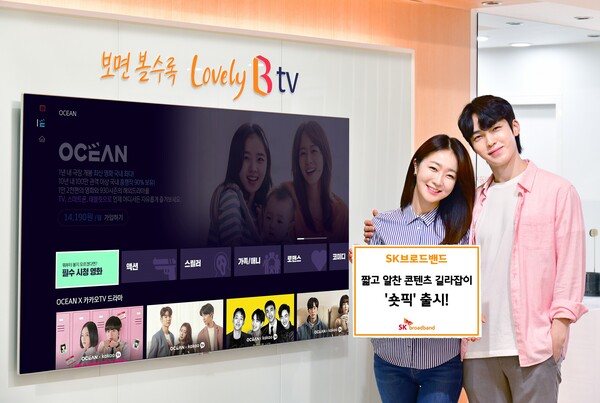 [Digital Today Reporter Baek Yeon-sik] SK Broadband announced on the 9th that it has released a short and fruitful content guide,'Short Pick', on'B tv' and'B tv Mobile'.
Short pick has the meaning of a short form of content recommendation program by adding'Short' of'Short' and'Pick' of'Choose'.
SK Broadband confirmed that customers have become accustomed to short content through the recent increase in mobile video viewing, and there is a demand to choose a choice after viewing only the core of a long-breathing movie/drama genre. It is explained that the short-form film/drama review/recommendation program Short Pick was planned to reflect these customer needs.
Short Pick In collaboration with famous Korean movie and drama review YouTubers, they put the work in short length within 10 minutes by talking with them.
Customers can enjoy watching movies and dramas in a short time with narration and witty subtitles by professional YouTubers that immersively convey the story along with the main scenes of the work.
In addition, you can taste the interpretation and hidden stories of the work, such as the background of the work, the relationship between the characters, important clues, and the meaning of specific scenes and things.
Short pick ▲'New Preview' that introduces the main characters and points of spectating ▲'Review of the plot' summarizing the stories of masterpieces and old works ▲'Behind the Scenes' that unravel the story behind the work from various perspectives such as place, background, and person It consisted of four types, such as the'free theme' that willow proceeds freely.
Starting with 330 episodes in May, 100 additional episodes will be provided every month from June. In addition, it plans to continue to expand the scale of YouTubers currently collaborating with about 10 members, and to introduce content that is directly conducted by members of the company who are film and drama enthusiasts.
Short picks can be found in the'Ocean Movie Review' menu on the screen of SK Broadband B tv's'Movie Home', and the'Movie' and'Clip' menus on B tv mobile.
"The short pick was prepared to provide an opportunity for customers to preview and select masterpieces they wanted," said Kim Hyuk, head of SK Broadband's media strategy division. "It will be a content guide where you can choose masterpieces you didn't know well and feel the excitement." said.
Author/ Translator: Jamie Kim
Bio: Jamie Kim is a technology journalist. Raised in Hong Kong and always vocal at heart. She aims to share her expertise with the readers at blockreview.net. Kim is a Bitcoin maximalist who believes with unwavering conviction that Bitcoin is the only cryptocurrency – in fact, currency – worth caring about.