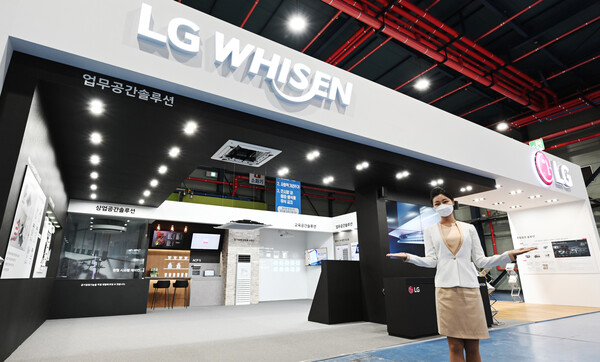 [Digital Today Reporter Jo Beliem] LG Electronics presents a customized solution that allows customers to hygienically manage air quality in various spaces.
LG Electronics participated in the '2021 Korea Mechanical Equipment Exhibition (HVAC KOREA 2021)' held at SETEC, Daechi-dong, Seoul from the 12th to the 14th.
LG Electronics will provide a total solution that provides a 135 sqm (m2) exhibition hall and customizes the air quality of various spaces where customers stay, such as commercial, residential, business, and education.
LG Electronics first unveiled a system air conditioner to which the '5-step clean management', which is scheduled to be released in June, manages the way the wind passes by.
The LG Whissen system air conditioner is a pre-filter that removes large dust from the incoming wind, cleans air certified by Korea Air Cleaning Association CAC (Certification Air Conditioner), antibacterial management that prevents the propagation of bacteria on the path through which the wind passes, and UV LED fan sterilization that sterilizes 99.99% of the fans, and automatic drying that prevents odors by removing internal moisture, etc., allows customers to use the air conditioner more conveniently and comfortably with five levels of clean management.
The new product is equipped with a'air cleaning lift grill' that allows convenient cleaning and maintenance by lowering the front grill, including air cleaning kits such as ultra-fine dust filters and deodorizing filters, as well as large dust filters, down from the ceiling. In addition to the four vanes that control the airflow of the existing ceiling-type indoor unit, there are also six space-specific airflows implemented with dual vanes that add four air guards, which are transparent wings inside the product.
In addition to new system air conditioners, LG Electronics introduced various commercial solutions such as circular system air conditioners and air-purifying commercial stand air conditioners.
As a residential solution, a home system air conditioner'MULTI VS', which can connect up to 16 indoor units with one outdoor unit, allows smooth cooling even in large residential spaces, and provides optimal cooling for residential spaces with high energy efficiency and a variety of lineups. '1 Way residential system air conditioner' provided,'LG Sensor Hub', which shows indoor air quality information and power consumption in real time, and controls LG smart home appliances such as air conditioners, air purifiers, and dehumidifiers by linking with a smartphone app. Etc.
In addition, when installed on the existing Whissen Multi-V system air conditioner, it is possible to reduce heating and cooling costs by combining the advantages of electric and gas types with business solutions such as'LG AI Engine', an artificial intelligence module that can use the AI+ certified artificial intelligence function for the first time in the industry It also presents educational solutions such as'Hybrid Heat Pump System Air Conditioner'.
Lee Jae-sung, vice president of LG Electronics' Air Solutions Business Department, said, "We will provide customized solutions so that customers can live with comfortable air in any space, like the Whissen system air conditioner with a different level of cleanliness and convenience."
Author/ Translator: Jamie Kim
Bio: Jamie Kim is a technology journalist. Raised in Hong Kong and always vocal at heart. She aims to share her expertise with the readers at blockreview.net. Kim is a Bitcoin maximalist who believes with unwavering conviction that Bitcoin is the only cryptocurrency – in fact, currency – worth caring about.