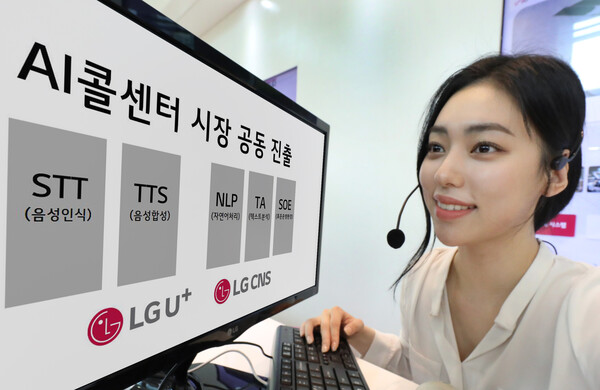 [Digital Today Reporter Baek Yeon-sik] LG U+ announced on the 15th that it would jointly conduct an AI Contact Center (AICC) solution business with LG CNS.
The AI ​​call center is a solution that can upgrade the telephone consultation service used by corporate customers who have a lot of inquiries from customers, such as the financial sector. Through artificial intelligence (AI), customer requests can be easily received, and in the case of a relatively simple solution, the AI ​​call center can provide answers instead of agents to increase the productivity of the consulting work.
In order for the AI ​​call center to be commercialized, ▲ AI recognizes the customer's voice in real time (voice recognition) ▲ identifies the customer's inquiry converted into text and finds an answer (Natural Language Processing) ▲ Technology that transmits the created answer by voice (voice) synthesis), etc., should be included in one solution.
Based on this solution, LG U+, which provides stable and long-term services to corporate customers as a telecommunication service provider, and LG CNS, which has the capability as an IT service company, plan to join forces to target the financial market.
LG U+ has accumulated related technologies necessary for AI call centers through the recently opened U+ Untact Store, an unmanned store. Unlike the unmanned stores of other telecommunication companies that only support SIM opening and device change in U+ Untact Store, non-face-to-face response to customer inquiries such as chatting consultation, connection with a counselor, and AI consultation while proceeding with new registration and number portability opening are providing services.
LG CNS is providing differentiated AI call center solutions to the domestic financial sector. Last year, we established the FCC (Future Contact Center) business team and are developing AI call center-related technologies.
The two companies plan to improve service precision by learning linguistic characteristics such as financial terms and dialects spoken by customers within the year to AI, and to collaborate on commercialization, such as branding of AI call center solutions.
In the future, LG AI Research Institute plans to challenge customer center productivity innovation by developing veteran AI consultants and AI advisors using the results of super-large AI-related research that LG AI Research Institute has started developing.
Lim Jang-hyeok, head of LG U+'s Corporate Infrastructure Business Group (Vice President), said, "AI call centers can be in wide demand not only in financial companies, but also in various industries such as home shopping and logistics that provide consulting services." We will expand our AI call center centering on the financial market to develop solutions that meet customer needs and to establish itself as a new growth engine."
Author/ Translator: Jamie Kim
Bio: Jamie Kim is a technology journalist. Raised in Hong Kong and always vocal at heart. She aims to share her expertise with the readers at blockreview.net. Kim is a Bitcoin maximalist who believes with unwavering conviction that Bitcoin is the only cryptocurrency – in fact, currency – worth caring about.