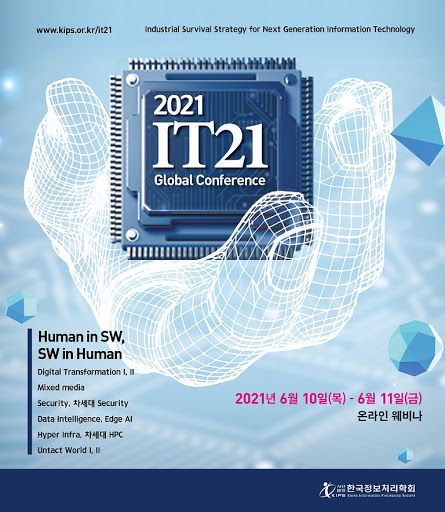 [Digital Today Reporter Jeong Yu-rim] The 2021 IT21 Global Conference (Industrial Survival Strategy for Next Generation Information Technology 2021), where the Korean Society for Information Processing (Chairman Shin Yong-tae, Professor, Soongsil University) will take a look at the future information and communication technology trends to secure ICT technology and industrial competitiveness will be held online for two days from the 10th to the 11th.
This event, held every year since 1996, is celebrating its 26th anniversary this year. This year's theme is 'Human in SW, SW in Human', which means a world where humans and software (SW) coexist.
The event includes Digital Transformation, Mixed media, Security, Data Intelligence and Edge AI, Hyper Infra and next-generation HPC, Untact World, etc. Dog sessions were held.
40 experts from various fields in the ICT field, including 4 invited speakers, will be present as lecturers. On the 10th, Korea University Professor In-Ho (Director of Blockchain Research Center) held the theme of 'The Future of Wealth, Who Will Lead: Blockchain and Digital Asset Revolution', followed by Lee Yun-geun, Director of the Korea Electronics and Telecommunications Research Institute (ETRI) Artificial Intelligence Research Center, 'ICT technology and artificial intelligence. A keynote speech on the topic of 'The Future Prospects of Intelligence'.
On the 11th, Jung Kyu-hwan, Chief Technology Officer (CTO) of Vuno, a medical artificial intelligence (AI) company, held the theme of 'Artificial intelligence for medical imaging for precision medicine', and Soongsil University professor Jeong Su-hwan (former president of the Information Security Association) presented 'AI and Security: Opportunities' on the 11th. A keynote speech will be presented on the subject of 'and threats'.
Shin Yong-tae, president of the Korea Information Processing Society, said, "Based on the government's biggest issues, digital transformation and the Untact World, top speakers invited from industry, academia, research institutes and governments announced various latest technologies and policy directions to improve the flow of this trend. We have planned this so that we can understand and prepare for it." He added, "I hope that this online conference will help a lot in future research and work and play a big role in leading the representative technology in the digital age.
This event was held at the Electronics and Telecommunications Research Institute (ETRI), Korea Electronics Technology Institute (KETI), Korea Internet & Security Agency (KISA), Korea Institute of Science and Technology Information (KISTI), Korea Intelligent Information Society Agency (NIA), Information and Communication Industry Promotion Agency ( NIPA), the Information and Communication Policy Institute (KISDI), and the Korea Local Information Development Institute (KLID), and sponsored by the Ministry of Science and ICT and the Information and Communication Planning and Evaluation Institute.
Author/ Translator: Jamie Kim
Bio: Jamie Kim is a technology journalist. Raised in Hong Kong and always vocal at heart. She aims to share her expertise with the readers at blockreview.net. Kim is a Bitcoin maximalist who believes with unwavering conviction that Bitcoin is the only cryptocurrency – in fact, currency – worth caring about.