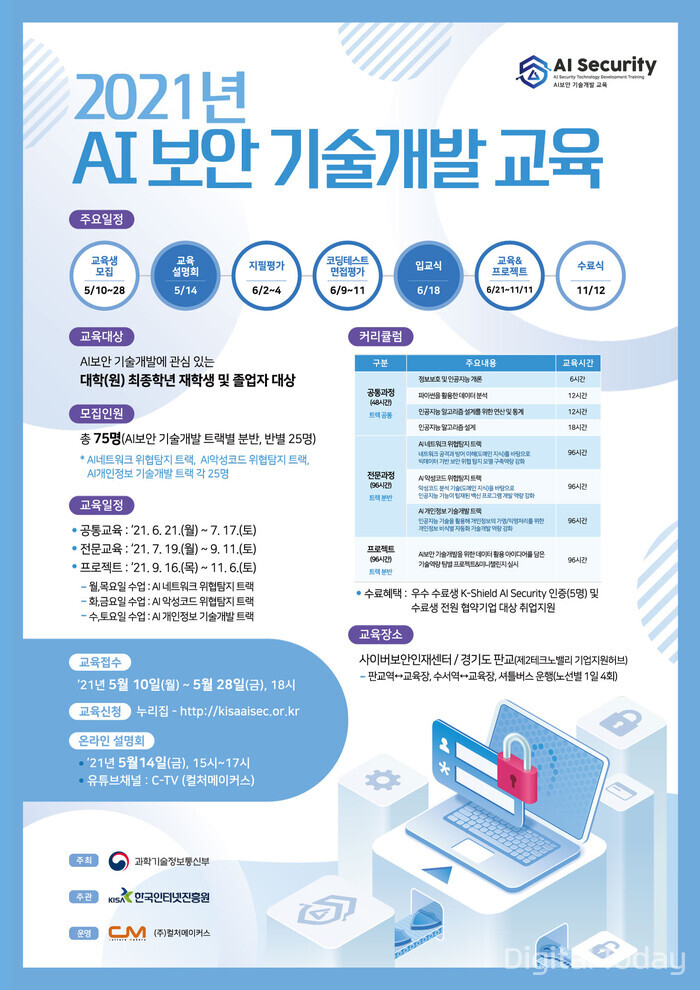 [Digital Today Reporter Kang Jin-gyu] The Korea Internet & Security Agency (KISA) with the Ministry of Science and Technology and Information and Communication will be holding the'Artificial Intelligence (AI) Security Technology Development Manpower Training Course' in June It was announced on the 6th that it will be held for 6 months from November to November.
The'AI Security Technology Development Education Project', which is being operated for the second time this year, starting last year, is a project to discover information security experts that selects beginners with information protection capabilities for job seekers and trains them into intermediate personnel capable of AI security technology development. .
Training can be applied from May 10 to May 28 on the AI ​​security technology development education website (kisaaisec.or.kr) for three weeks. After that, trainees selected through paper evaluation and interview screening will receive training for about 6 months.
In particular, this year, for intensive training on AI utilization technology development for each security industry, AI network threat detection, AI malware threat detection, and AI personal information technology development will be divided into three divisions, and about 25 trainees will be selected for each division.
The education program consists of common education based on theory, such as information protection, basic artificial intelligence, and data analysis, and specialized education based on AI application practice for each industrial sector.Based on the learned content, it is applied to actual technology development together with industry mentors. The viewing project is also in progress.
In addition, this year's course includes additional employment support benefits, providing employment information for companies that cultivate excellent talents in information security, special job lectures by experts in information security industry, academia, and employment consulting.
A certificate of completion will be issued to all trainees who have completed this course, and a certificate in the name of the KISA director will be awarded to the five trainees who have completed all courses with excellent grades.
"As AI, a key technology in the era of digital transformation, is applied and expanded to the information security industry, the need to cultivate AI-based security technology experts is increasing." It is expected that it will be an opportunity to solve demand and strengthen the competitiveness of excellent information security personnel."
Author/ Translator: Jamie Kim
Bio: Jamie Kim is a technology journalist. Raised in Hong Kong and always vocal at heart. She aims to share her expertise with the readers at blockreview.net. Kim is a Bitcoin maximalist who believes with unwavering conviction that Bitcoin is the only cryptocurrency – in fact, currency – worth caring about.