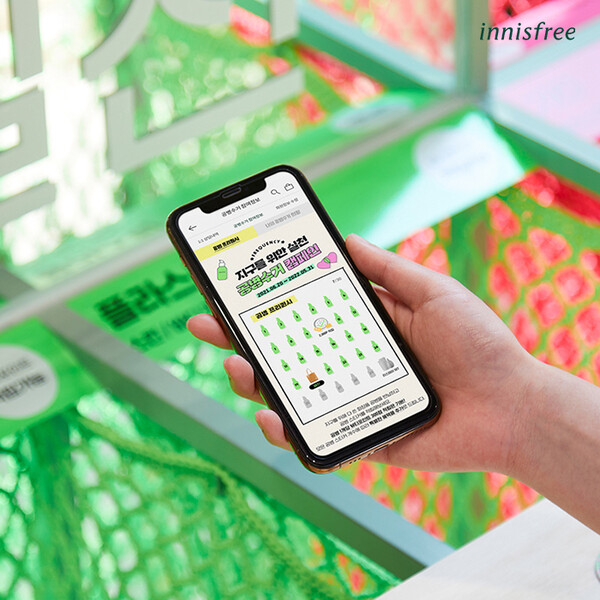 [Digital Today Correspondent Cho Shin-Eum] Cosmetics brand Innisfree's representative eco-friendly campaign 'Empty Bottle Collection Campaign' applies upgraded benefits.
Innisfree's 'Empty Bottle Collection Campaign', which has been running since 2003, is an eco-friendly campaign that collects and recycles used cosmetic containers to reduce the environmental impact of cosmetic containers, and collects beauty points for participating customers.
The NEW 'Sapper Frequency', newly introduced in June this year, allows you to earn additional 'Sapper Frequency' stickers along with the existing Beauty Points when you return used empty bottles at innisfree stores nationwide.
Additional beauty points, eco bags, and Listay hand wash sets will be presented according to the number of empty bottle stickers, such as 10, 20, or 30, to encourage customers to participate for the environment.
In addition, various benefits were prepared for customers who participated in the empty bottle collection for the environment, such as 5,000 beauty points for customers participating for the first time in collecting empty bottles, and 10,000 beauty points for customers who have consistently participated at least once a month for a year.
In commemoration of the launch of the NEW 'Sapper Frequency', innisfree will also hold a special event that can only be participated in offline stores until June 30. If more than one empty bottle is collected during this period, samples of the brand's representative products, 'Green Tea Seed Serum 30mL' and 'Volcanic Cluster Calming Clay Mask 30mL', will be presented.
Meanwhile, innisfree collected 1,027 tons of plastic and glass through the 'Empty Bottle Collection Campaign' for 10 years from 2011 to 2020. This is the effect of reducing 1316 tons of CO2, and it is the same as the effect of planting 9427 pine trees. Empty bottles returned by customers are reborn as innisfree product containers or recycled as interior materials and household goods.
More details about Innisfree's NEW 'Sapper Frequency', which can collect good frequencies for me and the earth, can be found on the website.
Author/ Translator: Jamie Kim
Bio: Jamie Kim is a technology journalist. Raised in Hong Kong and always vocal at heart. She aims to share her expertise with the readers at blockreview.net. Kim is a Bitcoin maximalist who believes with unwavering conviction that Bitcoin is the only cryptocurrency – in fact, currency – worth caring about.