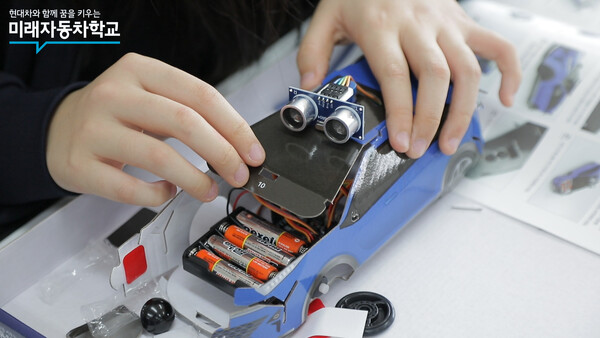 [Digital Today Reporter Choi Ji-yeon] Hyundai Motor Company's free semester system specialized career education for middle school and creative experience program for elementary schools from the coming 24th to June 18th,'Future Automobile School (Future Automobile School)' 2021 2nd semester It was announced on the 23rd that it would recruit participating schools.
The Future Automobile School is an educational program developed by Hyundai Motor Company in 2016 for the first time as a private company signed a business agreement with the Ministry of Education to help teenagers navigate their careers. It consists of classes to understand future automotive technology and to explore various occupations in the industry.
Hyundai Motor Company has operated future automobile schools in 120 middle schools in 2016, 200 in 2017, 240 in 2018, 300 in 2019, and 300 in 2020. Through this, it has consistently received favorable reviews from the educational world for its easy and fun lessons on the engineering principles of automobiles and a systematic curriculum related to mobility.
In addition, in order to provide educational opportunities to more and more growing generations, the elementary school creative experience program was developed and expanded from 2020. Accordingly, as the number of elementary schools to participate in the future automobile school continues to increase, the number of elementary schools has expanded from 20 last year to 100 this year, and plans to actively share the vision of future mobility envisioned by Hyundai Motor to the youth who are the leading players of the future. .
Classes are for middle school students ▲Mobility, adding vitality to the city ▲Mobility, achieving my values ​​▲Mobility, breaking down all boundaries. It goes on.
In addition, for the 4th to 6th grades of elementary school, the subject of ▲eco-friendly mobility ▲characteristics and principles of electric and hydrogen vehicles ▲making your own clay model, etc., is held in a total of 3 verses in an experiential learning method. Participating schools are provided with online teacher training and online class guides suitable for the educational conditions that have been converted to digital after the Corona 19 situation.
Middle schools that wish to participate can apply from the homepage of the middle school teacher at Mirae Automobile School, and from the homepage of the elementary school teacher at the'Mirae Automobile School' from the 24th to June 18th.
An official from Hyundai Motors said, "As it is a useful program for youth to understand the automobile industry and explore their career paths, we expect a lot of interest and participation."
Author/ Translator: Jamie Kim
Bio: Jamie Kim is a technology journalist. Raised in Hong Kong and always vocal at heart. She aims to share her expertise with the readers at blockreview.net. Kim is a Bitcoin maximalist who believes with unwavering conviction that Bitcoin is the only cryptocurrency – in fact, currency – worth caring about.