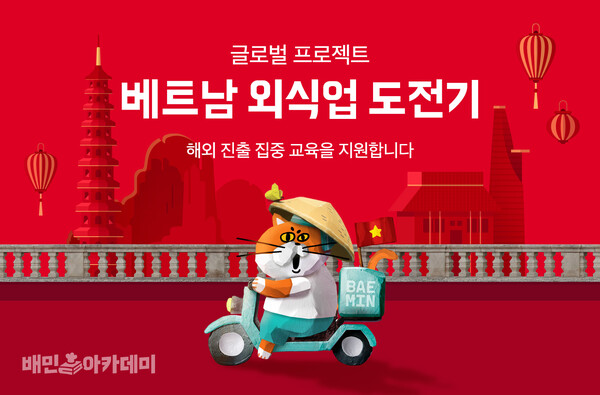 [Digital Today Reporter Jung Yoo-rim] Delivery App Delivery's ethnic operator The elegant brothers are starting a program to provide education to self-employed catering businesses who dream of expanding overseas and support local visits.
The graceful brothers announced on the 10th that they are recruiting trainees for the'Vietnam Catering Challenge Period' through the'Baemin Academy', a small business education program.
The elegant brothers explained that they prepared this program to help self-employed people who are struggling with Corona 19 and others to find new growth opportunities abroad.
Vietnam is said to have high growth potential, with the annual average growth rate of the restaurant industry reaching 10%. The elegant brothers plan to provide Korean self-employed individuals with opportunities and information on entering Vietnam and assist in the preparation process.
Recently, in Vietnam, it is known that there are many cases of localizing familiar Korean menus such as Tteokbokki, Chicken, Kimbap, and Ramen in Vietnamese style and gaining popularity. A representative example is the chicken franchise brand'Chicken Plus', which opened 25 additional stores in Vietnam last year and currently operates 40 stores.
The elegant brothers also emphasized that they have grown into the second-largest operators in more than a year after entering the Vietnamese delivery market under the brand'BAEMIN' in 2019.
In this regard, he added that as a part of continuing the second and third success stories of K-food in Vietnam, experts in various fields such as food materials, distribution, cooking, and localization were organized as instructors for this program.
In the first education, the elegant brothers Kim Chung-young, head of Baemin Kitchen in Vietnam, Jung-eun Lee, deputy head of The Bon Korea's overseas business team, Kang-shin Yoo, CEO of Vietnam Chicken Plus, and Sung-hyun Park, director of Vietnam's food material platform ODA.
The plan is to provide training for a total of 5 weeks for self-employed persons selected by 20 each in the 1st and 2nd recruitment. After the face-to-face and online training is over, two excellent graduates each will be selected to provide opportunities to visit Vietnam's field studies.
The recruitment of the first trainees is until the 24th. The first training is from June 2 to 30, the second training is from October 6 to November 3, and the number of people selected per round is 20.
An official of the elegant brothers said, "Starting with the Vietnam edition, we will continue to support the self-employed in overseas challenges by utilizing the overseas infrastructure of the elegant brothers."
Author/ Translator: Jamie Kim
Bio: Jamie Kim is a technology journalist. Raised in Hong Kong and always vocal at heart. She aims to share her expertise with the readers at blockreview.net. Kim is a Bitcoin maximalist who believes with unwavering conviction that Bitcoin is the only cryptocurrency – in fact, currency – worth caring about.