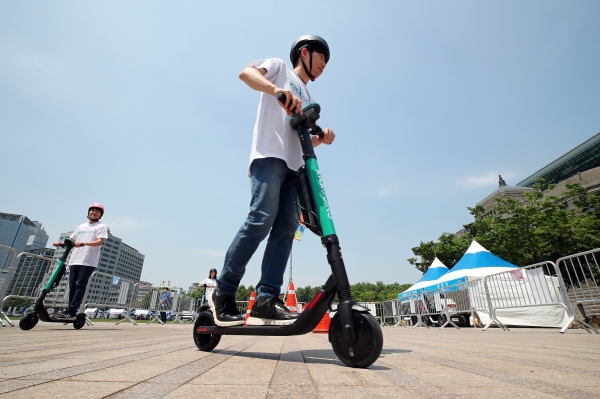 ■Be sure to wear a helmet when riding an electric kickboard.
As the revised Road Traffic Act, which states that protective equipment such as safety helmets should be worn when boarding an electric kickboard, is imminent, concerns in the shared electric kickboard industry are deepening.
This law is expected to take effect on May 13th.
Although the enforcement of the revised law is not long left, it is said that it is not easy for companies to deal with it directly, considering various problems such as damage or loss of helmets.
The revised Road Traffic Act contains details such as that in order to ride an electric kickboard, it is necessary to hold a license for more than a motorized bicycle, and no more than two people are allowed on board at the same time.
If you violate the matters specified in the law, a fine will be imposed.
If the helmet is not used, the penalty is 20,000 won.
If you ride a kickboard without a license, you will be charged a penalty of 100,000 won, and a penalty of 40,000 won if two people are boarded.
However, it is pointed out that wearing a helmet shared by a large number of unspecified people is not easy in reality, in an atmosphere where users avoid wearing a helmet, especially in an atmosphere that avoids contact with Corona 19.
■"Era of autonomous driving, even automakers play the role of insurance companies"
What will happen to the auto insurance market when the autonomous driving stage is advanced?
According to the Korea Insurance Research Institute's report, the higher the level of autonomous driving, the stronger the trend of converging the roles of automakers and insurance companies was predicted.
Recently, cases in which automakers directly provide auto insurance or automakers and insurance companies establish joint ventures to develop insurance products have emerged one after another.
Tesla provides auto insurance for its own vehicles, and reinsurer Swissri and automaker Daimler plan to establish a joint venture and operate it as a comprehensive auto insurance platform company.
In the era of self-driving cars, it is possible to analyze the risk of accidents and compensate for accidents using the accumulated data, so it is also expected that the automakers that can best secure this data will replace the insurance companies.
In preparation for the rapid proliferation of platform-based shared vehicles along with autonomous driving, the need to change the classification system of auto insurance has also been raised.
■Samsung ranked 4th in the 5G phone market in the first quarter
It was found that Samsung Electronics ranked fourth in the global 5G smartphone market in the first quarter of this year.
According to market research firm Strategy Analytics, Samsung Electronics shipped 17 million units in the global 5G smartphone market in the first quarter, ranking fourth with 12.7% market share.
Apple released 4,400,000 units, ranking first with 30.2%, second place Oppo with 21.5 million units, 16%, third place Vivo with 19.4 million units, 14.5%. Following Samsung, Xiaomi ranked fifth with a shipment of 16.6 million units and a market share of 12.4%.
Samsung Electronics shipped 8.3 million units in the early 5G market last year, ranking the No. 1 in the 5G smartphone market with 34.6%, but gave the top ranks to Apple and Chinese companies in one year.
In January of this year, Samsung Electronics launched its flagship smartphone Galaxy S21 early and aggressively launched the Galaxy A series that supports 5G, but it seems that it has not overcome the popularity of the iPhone and its insignificant influence in China.
Strategy Analytics analyzed that the high-end demand for the Apple iPhone and the low-end entry-level demand for the Chinese phones are becoming more prominent.
■The courier cost to be paid by general consumers is increasing.
It was found that major courier companies have also increased parcel prices for individual customers following corporate customers.
From the 19th of last month, Hanjin has increased the price of delivery for individual customers by 2,000 won from 4,000 won to 6,000 won.
The medium size is from 5,000 won to 6,000 won,
The large size increased by 1,000 won from 6000 won to 7,000 won.
It was also found that Lotte Global Logistics also increased the cost of small, medium and large parcels by 1,000 won.
In general, more than 80% of the parcel delivery companies' handling volume is small-sized, weighing less than 5kg.
These companies explained that the realization of unit prices was inevitable in order to improve the working environment of courier workers and improve the quality of customer service, and that the price after the increase was similar to that of other companies.
CJ Logistics, the No. 1 service provider in the parcel delivery industry, has already set a price of 6,000 won for individual parcels on a small scale. The company's position is that there are no plans to increase it for the time being.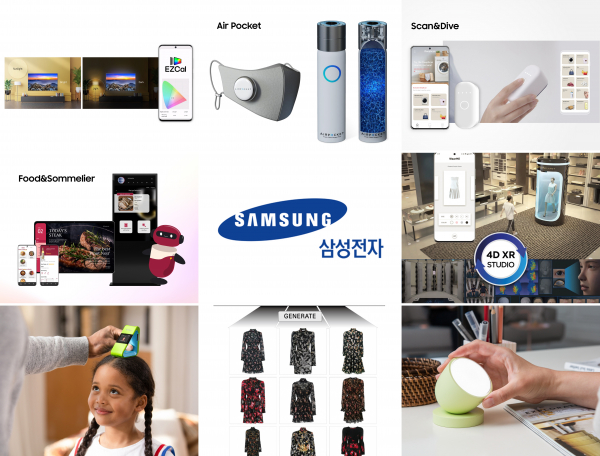 ■Ant-owned shares of Samsung Electronics… Beat the national pension
The number of shares of Samsung Electronics held by ants exceeded 600 million, and individual shares exceeded 10% for the first time.
According to the financial investment industry, as of the 30th of last month, the number of Samsung Electronics shares held by individuals was 653.33 million, and the stake was 10.13%.
This is the first time that a private ownership stake in Samsung Electronics exceeds 10%. This is higher than that of institutional investors as well as the national pension holdings.
At the end of last year, it was announced in March that the stake in the National Pension Service, which had a 10.70% stake in Samsung Electronics, fell below 10%.
Excluding the National Pension Plan, institutional investors' stake in Samsung Electronics is 4.58%, which is far less than that of individuals.
Personal holdings of Samsung Electronics increased by about three times compared to 3.62% at the end of 2019.
In particular, Samsung Electronics' stocks that individuals net bought this year amounted to 18,433.6 billion won. This amounts to 42.3% of net purchases of 43,552.1 billion won in the securities market this year.
At the end of last year, there were 2.14 million individual investors who owned shares of Samsung Electronics. As the number of investors increased significantly this year, the industry estimates that it will exceed 3 million at present.
■Preparation of guidelines for verification of banknotes and virtual asset exchanges
According to the financial sector, the Federation of Banks recently issued a'Guideline for Anti-Money Laundering Risk Assessment Methodology' to commercial banks.
The revised Special Money Act and the enforcement decree, which took effect in March, stipulate that virtual asset exchanges are also obligated to prevent money laundering and must receive deposit and withdrawal accounts from banks that can verify the real name of customers.
When a bank receives an application for issuance of a real name confirmation deposit/withdrawal account from a virtual currency exchange, it must decide whether to issue a real name deposit/withdrawal account based on the result of a comprehensive evaluation of the exchange's risk, safety, and business model.
In accordance with the changed specific financial transaction information law, commercial banks, which have taken the role of'comprehensive verification' for virtual currency exchanges, have prepared guidelines to be applied in the due diligence process and completed preparations for verification.
In addition to the computer/organization/manpower related to anti-money laundering, the security of coins handled by the exchange, financial stability of the exchange, and major shareholders of the exchange will be examined thoroughly to see if there are any problems.
Moreover, there is a growing voice within the bank, "Is it necessary to take the risk of an accident such as money laundering by transacting with a cryptocurrency exchange for how much the fee is?" It is criticized that the actual profit is small, but the risk is high.
As a result, not only small exchanges estimated to be 200, but also four major exchanges, including NH Nonghyup Bank, Shinhan Bank, and K Bank, open real-name accounts and operate with Bithumb, Upbit, Coinone, and Kobit.
■April exports rose the most in 10 years
Korea's April exports recorded $51.190 billion, the highest of all April exports. In addition, it increased a whopping 41.1% from April of last year, recording the largest increase in 10 years.
The Ministry of Trade, Industry and Energy announced on the 1st that the export value in April reached $51.19 billion, an increase of 41.1% compared to the same period last year. This export growth rate is the highest since January 2011.
Of the 15 major export items, 13 items, especially semiconductors and automobiles, recorded double-digit growth.
Semiconductors increased by 20.3% for 10 consecutive months. Exports recorded $9.34 billion, the second largest in April.
Automobiles rose 73.4% for the fourth consecutive month, exceeding $4 billion for the second consecutive month in six years.
Petrochemicals recorded the second-largest export value after March this year with 4.46 billion dollars.
Petroleum products increased for two consecutive months in two years and four months to record $2.88 billion, the highest in one year and three months.
Last month, imports increased 33.9% to $50.8 billion.
The trade balance was $390 million, continuing a surplus for 12 consecutive months.
Digital Economy Media Digital Today provides an audio service of major news every day. Meet the audio clips and the Patpan Daily Channel. (Upload from 0600 on weekdays)
Author/ Translator: Jamie Kim
Bio: Jamie Kim is a technology journalist. Raised in Hong Kong and always vocal at heart. She aims to share her expertise with the readers at blockreview.net. Kim is a Bitcoin maximalist who believes with unwavering conviction that Bitcoin is the only cryptocurrency – in fact, currency – worth caring about.