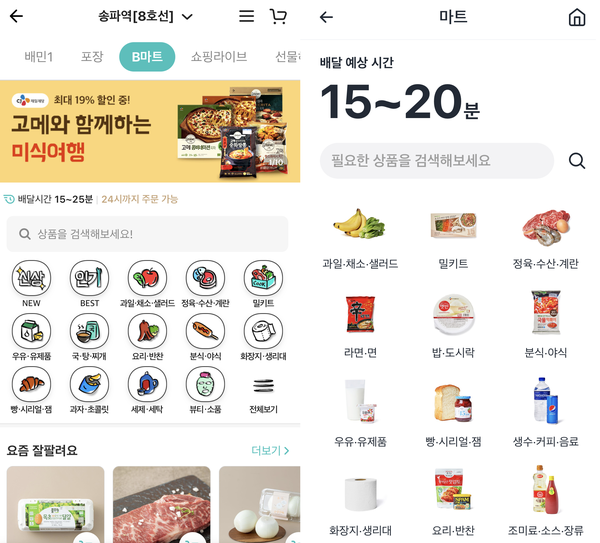 [Digital Today Correspondent Cho Shin-Eum] Coupang is expanding the scope of its immediate delivery (quick commerce) service. Coupang's offensive against Kuk commerce providers such as Baedal Minjok B Mart, the originator of quick commerce, is expected to intensify.
Quick Commerce is a service that delivers food such as ice cream, bread, diet lunches and salads, to daily necessities such as laxatives, detergents, home appliances, and pet supplies within tens of minutes.
As of the 1st, Coupang It's Mart expanded its service, which was limited in Songpa-gu, to Gangdong-gu. By expanding the service to Gangdong-gu, which is located right next to Songpa-gu, the company launched a full-fledged attack on quick commerce. Coupang Eats plans to expand its service to the Yeoksam area within this year.
Baedal Minjok's B Mart provides services in the metropolitan area and Daejeon, and offers a much wider range of services than Coupang Eats Mart.
However, as it has to cover a wide range, the estimated delivery time of B Mart is 1-3 times longer than that of Coupang Eats Mart.
When measured based on Songpa-gu, where services are available for both platforms, the estimated delivery time was similar at 11 to 21 minutes at B Mart and 15 to 20 minutes at Coupang Eats Mart. On the other hand, it was confirmed that the delivery time increased by up to 55 minutes in areas where only B Mart provides services, such as Yeoksam Station and Jegi-dong Station.
Coupang Eats Mart and B Mart operate differently.
Unlike the Coupang Its Mart system, where a delivery partner resides in a distribution center and can go directly to delivery, B Mart offers a 'gun-by-gun, case-by-case' system where, when a delivery request is received, the nearby Baemin Rider and Baemin Connector perform the delivery. ' It is operated based on the system.
There are also differences in the delivery method. Unlike Coupang Eats Mart, where a fee of 2,000 won is paid for all deliveries, at B Mart, a delivery fee of 3,000 won is charged for payments of less than 30,000 won, and the service is provided free of charge for payments of 30,000 won or more.
In the stock market, predictions continue that Coupang will pioneer a new market to enhance its growth potential in the With Corona era.
According to data from the National Statistical Office, the penetration rate of the e-commerce market is stagnating at the low 30% due to the increase in the domestic vaccination rate.
Park Sang-joon, a researcher at Kiwoom Securities, said in a report, "As Coupang is gradually expanding the coverage of 'Coupang Eats Mart', the possibility of expanding Quick Commerce coverage in the first half of next year is increasing. It is expected to act as a threat to convenience stores," he said.
Author/ Translator: Jamie Kim
Bio: Jamie Kim is a technology journalist. Raised in Hong Kong and always vocal at heart. She aims to share her expertise with the readers at blockreview.net. Kim is a Bitcoin maximalist who believes with unwavering conviction that Bitcoin is the only cryptocurrency – in fact, currency – worth caring about.