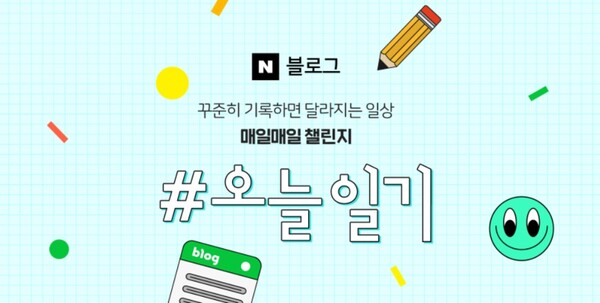 [Digital Today, reporter Jung Yoo-rim] Naver announced that it is ending an early event for blog users.
On the 4th, Naver announced through its official blog, "The'#Today Diary Challenge', which started on the 1st, is inevitably ended early."
Naver held an event called "Daily Challenge #Today Diary" that pays 16,000 won to users who posted their diary on the blog for two weeks from the 1st to the 14th. It was a method of paying 1,000 won for 3 days, 5,000 won for 10 days, and an additional 10,000 won for writing until the 14th.
It was solved as a part to capture the hearts of the recent increase in blog users and activate the service.
In a conference call for the first quarter of 2021, on April 29, Naver mentioned that the number of new blogs opened last year has more than doubled compared to the previous year, and more than 30% of them are in their 20s, emerging as a trendy medium that records daily life I did.
However, Naver explained that "there were too many'abuse' participants such as copying and pasting with multiple IDs."
In this regard, users are complaining about whether it is necessary to catch the abusing user rather than stop the event.
Naver plans to pay 1,000 won Naver Pay points for the event benefits for the 3rd day.
Author/ Translator: Jamie Kim
Bio: Jamie Kim is a technology journalist. Raised in Hong Kong and always vocal at heart. She aims to share her expertise with the readers at blockreview.net. Kim is a Bitcoin maximalist who believes with unwavering conviction that Bitcoin is the only cryptocurrency – in fact, currency – worth caring about.