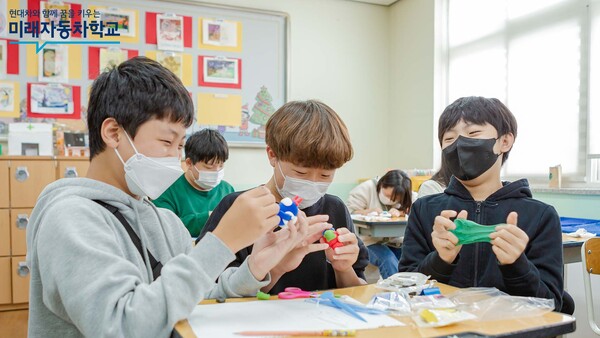 [Digital Today Reporter Jung Yu-rim] Hyundai Motor Company is recruiting 'Future Automobile School where dreams come true with Hyundai Motor' and nurtures talent.
The Future Auto School is a specialized career education program for the middle school free semester system and creative experience activities for elementary school, and consists of classes to help young people in their career exploration. Recruitment is from November 8th to December 3rd.
The Future Auto School, which has been operating in 1,380 middle schools nationwide since 2016, provides classes on the principles of automotive engineering and curriculum related to hydrogen and mobility. In 2022, as new content, it plans to provide curriculum content with mobility and sustainability-related content at the level of the growing generation.
Classes consist of a regular program for middle school students, a short-term program, and an elementary program for grades 4-6. Online teacher training, self-driving mobility experience kits, and mobility upcycling kits will be provided, including teaching aids that enable students to participate actively in classes.
Schools wishing to participate in the first semester of 2022 can apply on the teacher's website for each middle school and elementary school from November 8 to December 3, respectively.
Hyundai Motor Company conducts online teacher training to effectively deliver content related to hydrogen society, hydrogen energy, and carbon neutrality. By providing a platform where teachers and students can easily experience, children, the future leaders, and Hyundai Motor Company are planning to share the future mobility vision envisioned by Hyundai Motor Company.
Author/ Translator: Jamie Kim
Bio: Jamie Kim is a technology journalist. Raised in Hong Kong and always vocal at heart. She aims to share her expertise with the readers at blockreview.net. Kim is a Bitcoin maximalist who believes with unwavering conviction that Bitcoin is the only cryptocurrency – in fact, currency – worth caring about.