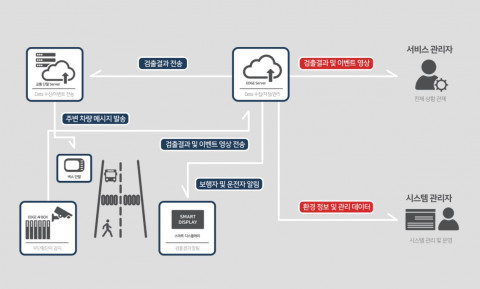 [Digital Today Correspondent Hwang Chi-gyu] Cresfree, a company specializing in edge computing and artificial intelligence (AI) platforms, announced on the 5th that it will introduce a CCTV vision AI-based pedestrian notification service.
Cresfree is promoting the commercialization of a platform and city safety service based on technology that enables immediate data analysis at the site of data generation based on on-device vision AI, edge computing, and Internet of Things (IoT) technologies.
The company explained that the jaywalking pedestrian notification service introduced this time installs a virtual safety fence in areas where jaywalking accidents are frequent, automatically detects jaywalking situations, and provides warnings to trespassers and driver caution to nearby drivers.
Kwon Jin-man, CEO of Cresfree, said, "Pedestrian safety is provided by the physical method of installing a median to prevent jaywalking on city roads, but the median blocks the driver's view and there is a risk of collision with jaywalkers." "As a pedestrian notification service for jaywalking, it will be possible to reduce the incidence of jaywalking accidents by combining AI technology with existing urban CCTV and providing smart city safety services," he said.
Author/ Translator: Jamie Kim
Bio: Jamie Kim is a technology journalist. Raised in Hong Kong and always vocal at heart. She aims to share her expertise with the readers at blockreview.net. Kim is a Bitcoin maximalist who believes with unwavering conviction that Bitcoin is the only cryptocurrency – in fact, currency – worth caring about.