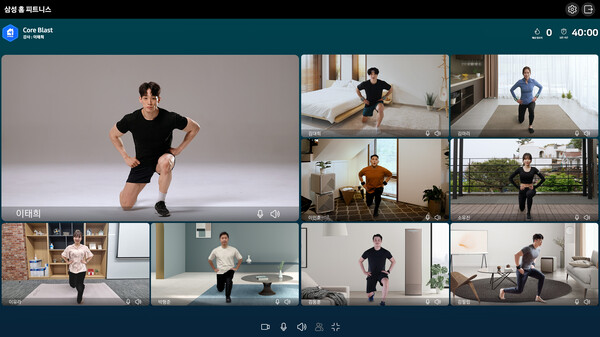 [Digital Today Correspondent Cho Shin-eum] Samsung Electronics will unveil the 'Samsung Home Fitness' service on the 24th.
This service was created in collaboration with Hotel Shilla Exercise Research Institute. It is composed of various programs so that customers who want home training can enjoy exercise according to their exercise ability and taste with the help of experts at home.
Samsung Home Fitness consists of a systematic curriculum by professional trainers in each field, and features a variety of exercise items such as body weight, dance, Pilates, and yoga.
In addition, various exercise information such as exercise time, exercise effect, and calories consumed are provided in icons, graphs, charts, etc. so that students can easily and quickly grasp the information they want.
In addition, ONTHELIVE, an online learning solution, is applied to this service so that trainees can communicate with trainers in high-definition smoothly.
Samsung Home Fitness offers 'Basic', a daily live service of star instructors for beginners who are new to home training, 'Premium' where up to 8 students can participate together, and 'Private', a 1:1 coaching service just for you. It operates as a total of 3 monthly subscription programs. The premium and private programs support real-time communication between trainers and students, allowing them to exercise more systematically and effectively.
Samsung Electronics Korea General Manager Kim Seong-wook said, "In the untact era, Samsung Home Fitness has been introduced through Samsung.com so that you can exercise systematically with a professional trainer at home." "Samsung Electronics customers pursue a more enjoyable and healthy home life." I will help make it happen," he said.
To commemorate the launch of Samsung Home Fitness service, Samsung.com offers a wealth of benefits, such as free for the first month for Basic and 50% off for Premium for the first month. For more information about Samsung Home Fitness, visit Samsung.com.