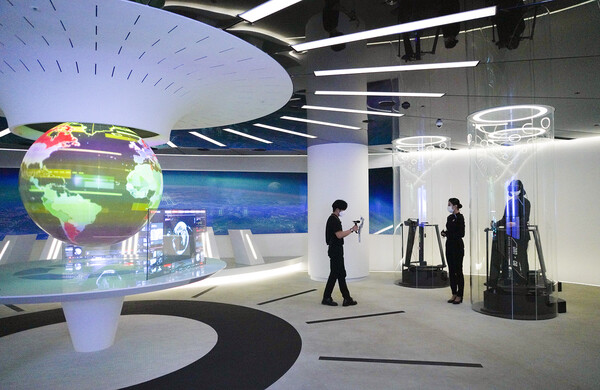 [Digital Today Reporter Baek Yeon-sik] SK Telecom announced on the 24th that it would provide the Gyeonggi Content Agency for free with the 'T.um YouTube Live Tour' through YouTube, where anyone can easily experience the future world and technology 30 years from now.
The 'T.um YouTube Live Tour' will be used as content for the '2021 Visiting VR/AR Experience Center' operated by the Gyeonggi Content Agency.
The Visiting Experience Center provides VR/AR contents in various fields, such as job education, cultural experience, cognitive training, and healing, in order to bridge the digital divide in Gyeonggi-do and to support local residents who have difficulties in outside activities due to Corona.
SK Telecom provides a dedicated session that allows you to reserve the 'T.UM YouTube Live Tour' in special classes and educational institutions connected to the Gyeonggi Content Agency, and provides a tour tailored to the nature of the participating institution.
The 'Tium YouTube Live Tour' provided by SK Telecom is implemented in the background of a future city in 2051 through real-time video relay for about 30 minutes ▲ Monitoring the space and earth environment using high-speed networks and artificial intelligence ▲ Drones and AR (augmented reality) ), etc., and ▲remote hologram meetings, etc. to vividly experience future ICT technologies.
In particular, two docents with expertise in the story and technology of 'T.UM' provide a two-way formation service that allows you to enjoy the tour by asking questions and receiving answers through a chat window in real time.
Gyeonggi Content Agency said that the '2021 Visiting VR/AR Experience Center' is very popular with about 1,000 people participating per month. Through this cooperation, more people can experience the 'T.um YouTube Live Tour' and easily enjoy the latest technology that was difficult to experience. said there will be
The 'T.UM YouTube Live Tour' can be used by general visitors after making a reservation on the reservation page of the 'T.UM' website. The '2021 Visiting AR/VR Experience Center' provides ICT experiences by visiting various institutions until November of this year, and inquiries can be made to the Gyeonggi Content Promotion Agency.
Song Kwang-hyeon, head of SK Telecom's digital communication department, said, "It is very meaningful in that the public-private partnership will provide opportunities to experience cutting-edge ICT technology to students who are unable to visit 'T.UM' in person." We will continue to work to close the gap," he said.