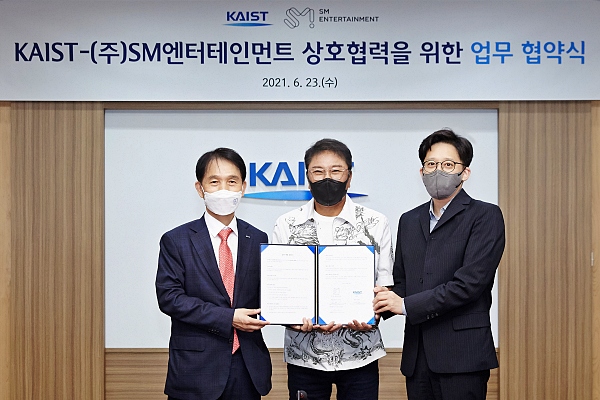 [Digital Today Reporter Choo Hyun-woo] KAIST (President Lee Kwang-hyung) joined hands with SM Entertainment for a leading metaverse research.
On the afternoon of the 23rd, the two institutions signed a business agreement for metaverse research in the first meeting room of Daejeon Headquarters. In the future, they will collaborate in fields such as technology related to content, artificial intelligence, and robots, joint projects related to digital avatar production, and joint academic research related to culture technology.
In particular, through joint research with KAIST College of Culture and Technology, research on metaverse performance technology using avatars will be focused on.
KAIST provides cutting-edge technologies to accurately reproduce and operate the virtual world, such as artificial intelligence, digital twin, and Internet of Things (IOT) networks. The goal of this cooperation is to take the lead in the metaverse field, which is considered to be a major growth engine for the future, by integrating the production and content planning capabilities of SM Entertainment, which has led the global Korean Wave
Executive Producer Lee Soo-man said, "SM Entertainment, which has led the Korean entertainment industry, has gained the power to create future contents, and KAIST, which has led the training and innovation of Korean science and technology talents, has become a world-class university and a first mover that contributes to the future life of mankind together with SM. I'm sure it will be," he said.
President Lee Kwang-hyung of KAIST said, "I hope that the cultural imagination of SM Entertainment, which has captured the hearts of people around the world, will meet with KAIST's excellent technology and be completed as a product of great creativity that contributes to the future entertainment market as well as the development of engineering technology."
Author/ Translator: Jamie Kim
Bio: Jamie Kim is a technology journalist. Raised in Hong Kong and always vocal at heart. She aims to share her expertise with the readers at blockreview.net. Kim is a Bitcoin maximalist who believes with unwavering conviction that Bitcoin is the only cryptocurrency – in fact, currency – worth caring about.