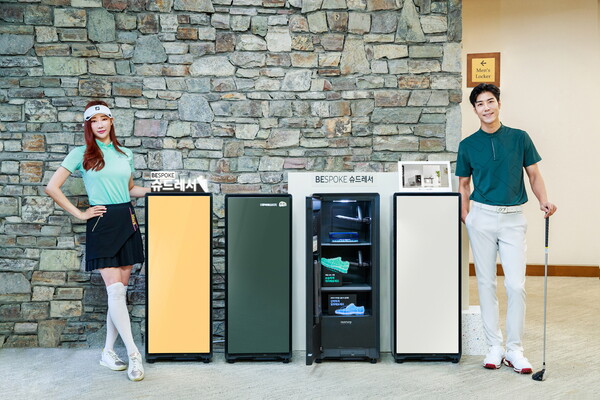 [Digital Today Correspondent Cho Shin-Eum] Samsung Electronics is strengthening experiential marketing to directly experience the shoe care device 'Bespoke Shoe Dresser'.
Samsung Electronics plans to establish product experience zones in major movie theaters, hotels, and golf courses in the metropolitan area, and gradually increase them.
The bespoke shoe dresser provides shoes through management such as 'air wash' that effectively removes odor particles, 'UV odor decomposition filter' that decomposes odor particles, and 'low temperature delicate drying' that dries below 40℃ similar to human body temperature. It is a product that maintains comfortable and hygienic
First of all, a bespoke shoe dresser was installed at CGV Yongsan I'Park Mall 'SKYBOX' so that visitors can manage their shoes while enjoying the movie, and they can also experience the bespoke air dresser, cube refrigerator, and cube air. decorated the space
A bespoke shoe dresser has also been added to the 'Experience Room', an experiential room of the Shilla Hotel, which received a good response by installing Samsung Electronics' lifestyle home appliances, allowing guests to manage their own shoes using various courses and options. made it possible
Anseong Benest Golf Club also has a bespoke shoedresser experience zone. Golf course users can manage the shoes they wear or the golf shoes they wear during the round as an optimized course.
Samsung Electronics is also holding a 'To-Go event' where consumers can rent products for up to 14 days so they can experience the bespoke shoe dresser at home. This event is a free service from product delivery and installation to collection, allowing consumers to experience various functions without burdening the cost.
Taehwan Hwang, Executive Vice President of Samsung Electronics Korea, said, "As the shoe manager is a new category of product, we have prepared various contact points so that more consumers can experience it." We will provide fashion care," he said.
Author/ Translator: Jamie Kim
Bio: Jamie Kim is a technology journalist. Raised in Hong Kong and always vocal at heart. She aims to share her expertise with the readers at blockreview.net. Kim is a Bitcoin maximalist who believes with unwavering conviction that Bitcoin is the only cryptocurrency – in fact, currency – worth caring about.