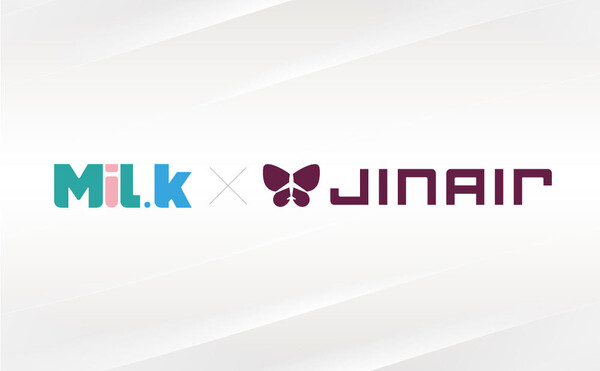 [Digital Today Reporter Jeong-eun Moon] Milk Partners, the operator of the blockchain-based point integration platform 'MiL.k', has signed a business cooperation with domestic low-cost carrier (LCC) JIN AIR to provide airfare discount service announced on the 22nd.
The two companies will support the member linkage function of each company in the milk app until next month. In addition, it is planning to introduce a Genie coupon for milk exclusive (Jin Air airfare discount coupon). The Genie Coupon is in the form of an amount coupon that can be used to reserve tickets for all domestic and international routes, and can be purchased at a discounted price within the Milk App.
Milk Partners is cooperating with lodging reservation platform Yanolza and Shinsegae Internet Duty Free Shop. With the joining of Jin Air, the company plans to enhance customer benefits by completing the travel value chain, from lodging reservations to airline ticket reservations and duty-free shopping. In particular, the company expects that the travel industry will be revitalized as the COVID-19 vaccination has been expanded recently and the government announced plans to promote the travel bubble (travel safety zone).
Milk Partners CEO Jo Jung-min said, "I hope that cooperation with Jin Air will bring good news to people who have been looking forward to travel and the travel industry." We plan to work hard," he said.
Author/ Translator: Jamie Kim
Bio: Jamie Kim is a technology journalist. Raised in Hong Kong and always vocal at heart. She aims to share her expertise with the readers at blockreview.net. Kim is a Bitcoin maximalist who believes with unwavering conviction that Bitcoin is the only cryptocurrency – in fact, currency – worth caring about.