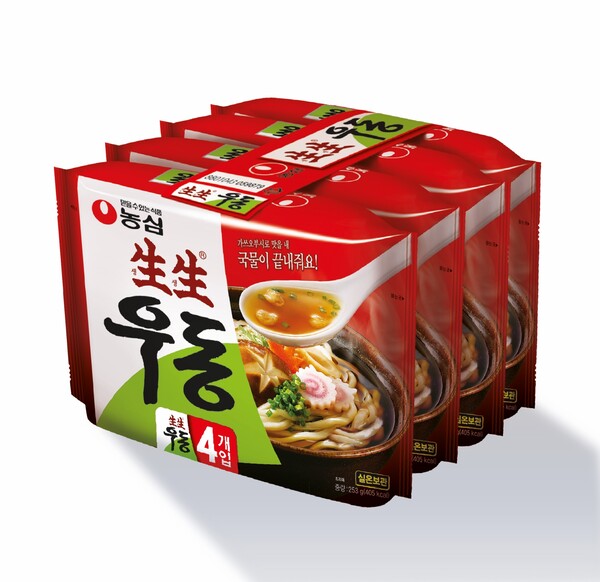 [Digital Today Correspondent Cho Shin-Eum] Nongshim takes the lead in ESG management by reducing the amount of ramen packaging paper used
Nongshim announced on the 21st that it will change the packaging of 4 bundles of fresh udon produced from the end of this month to a method of wrapping the product with a band.
Consumer convenience was also taken into consideration, such as printing essential information such as product names and barcodes on the band and inserting perforations for easy separation. In addition, we plan to apply it to other products in the future by identifying problems that occur in the logistics and distribution process and promoting the stabilization of production facilities.
This packaging simplification is expected to reduce the amount of plastic film used by about 10 tons per year.
Meanwhile, Nongshim has reduced plastic usage by more than 2,000 tons per year through activities such as optimizing packaging material specifications and removing unnecessary trays. Increased recyclability.
Nongshim is also actively promoting plastic recycling. The company is striving to increase the recycling rate by providing free plastic bottles of Baeksansoo collected in-house to recycling companies and applying films made from recycled PET (PET) to actual products.
For the first time in the food industry, recycled PET film has been used as a material for the lid of the Squid Jjamppong Bowl since last May. Next, Nongshim plans to apply it to the packaging of new products to be launched in the second half of this year.
An official from Nongshim said, "Eco-friendly management is no longer an option but a necessity." "We will fulfill our social responsibilities and become a company that coexists with the environment."
Author/ Translator: Jamie Kim
Bio: Jamie Kim is a technology journalist. Raised in Hong Kong and always vocal at heart. She aims to share her expertise with the readers at blockreview.net. Kim is a Bitcoin maximalist who believes with unwavering conviction that Bitcoin is the only cryptocurrency – in fact, currency – worth caring about.