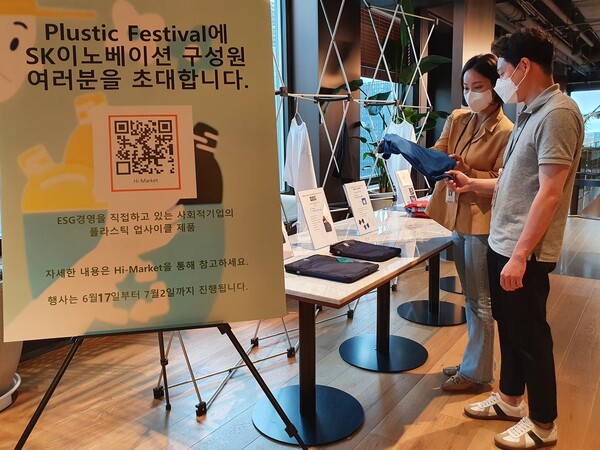 [Digital Today Correspondent Choi Ji-yeon] SK Innovation announced on the 20th that it will hold an event where members can directly experience and participate in 'waste plastic recycling', one of the core ESG strategies.
From the 17th of this month to the 2nd of the next month, SK innovation can purchase plastic upcycled products made by social enterprises for employees at business sites across the country, experience them in their daily life, and open up ideas on how to better recycle plastic. organized an event.
'Plastic' is a compound word combining 'plastic' and 'plus', and the purpose is to make plastic useful for mankind and the environment. The name of the event was decided as 'Plustic Festival' with the intention that members directly participate through consumption and suggestion of ideas.
All products sold at the Plustic Festival are made from raw materials obtained by recycling waste plastics. These are the eco-friendly social enterprises and social venture companies that SK Innovation is intensively nurturing, such as ▲Ushisan's camping box and summer blanket ▲Monsenu's T-shirt ▲Lightroute's tablet PC pouch.
SK innovation has set up showrooms at business sites across the country, such as Seoul, Ulsan, Incheon, Seosan, and Jeungpyeong, so that members can directly examine product quality and design. Members can voluntarily purchase products they want and participate in the event at the company's in-house mall 'High Market', which was created to build a social safety net.
A groundbreaking idea contest to recycle plastic is also held for members. This is to discover innovative business models and create greater social value through collective intelligence.
Author/ Translator: Jamie Kim
Bio: Jamie Kim is a technology journalist. Raised in Hong Kong and always vocal at heart. She aims to share her expertise with the readers at blockreview.net. Kim is a Bitcoin maximalist who believes with unwavering conviction that Bitcoin is the only cryptocurrency – in fact, currency – worth caring about.