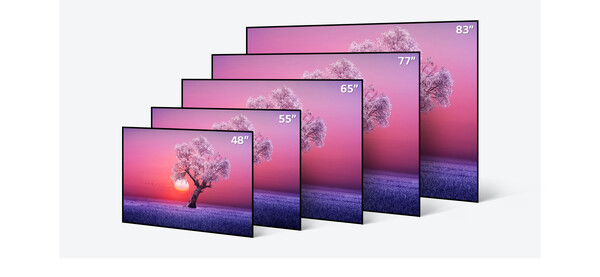 [Digital Today Correspondent Choi Ji-yeon] LG Electronics announced on the 20th that it will launch the world's first 83-inch (about 211 cm diagonal) OLED TV.
LG Electronics will launch an 83-inch OLED TV (model name: 83C1) in the global market, starting with Korea and the US this month.
This product is the largest among 4K (3840×2160) resolution OLED TVs. LG Electronics has the industry's most diverse lineup of OLED TVs in 48/55/65/77/83/88 type.
The number of LG OLED TVs over 70 inches increased from 7 last year to 11 based on models released in Korea. LG Electronics plans to actively target the demand for high-definition, large-screen premium TVs with its super-large OLED TVs.
The company predicted that the global OLED TV market would nearly double compared to last year. He explained that the demand for premium content such as online video service (OTT) and games to enjoy on extra-large TVs is increasing as the time spent at home increases.
The 83-inch OLED TV won two awards at CES2021, the world's largest IT exhibition, by receiving the Innovation Awards in Gaming and Video Display, respectively.
The Consumer Technology Association (CTA) of America evaluated this product as "It is packed with the best features such as high speed that reduces input lag and 4K resolution High Frame Rate (HFR), which gives amazing pleasure when playing games or watching sports." did.
The domestic shipping price of this product is 10.90 million won. LG Electronics is offering a 1 million won cashback benefit to customers who purchase products by the end of this month.
Seonpil Baek, executive director of TV product planning at LG Electronics, said, "In the premium TV market, where the trend of large-size TVs is accelerating, we will allow more customers to experience the differentiated value of LG OLED TVs."
Author/ Translator: Jamie Kim
Bio: Jamie Kim is a technology journalist. Raised in Hong Kong and always vocal at heart. She aims to share her expertise with the readers at blockreview.net. Kim is a Bitcoin maximalist who believes with unwavering conviction that Bitcoin is the only cryptocurrency – in fact, currency – worth caring about.