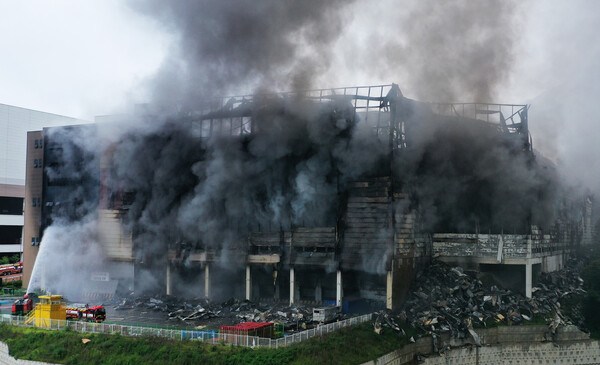 [Digital Today Reporter Jeong Yu-rim] Coupang apologized for the fire at the Deokpyeong Logistics Center in Icheon, Gyeonggi-do, saying, "I am very sorry for causing concern to many people."
Coupang said, "It is regrettable that one of the firefighters who started the firefighting campaign has not been rescued yet." "All Coupang members unite their hearts and earnestly pray for a speedy rescue."
He continued, "We will do our best to cooperate with the authorities not only in the investigation of the cause of the fire but also in all processes of resolving the accident." I hope I can," he said.
It is said that the fire started at 5:20 am on the 17th on the 2nd basement floor of the building with a total floor area of ​​127,178.58 square meters with 4 stories above and 2 stories below.
The fire seemed to have subsided as a large flame was caught at 8:19 a.m. after about 2 hours and 40 minutes, but it is known that the fire started rising again at 11:50 a.m. and continues to this day.
It is said that one firefighter (rescue chief of 119 fire station in Gwangju, Gyeonggi-do) entered the second basement floor of the building together with four colleagues when the fire became weak the day before, but was unable to get out and was isolated at the scene.
Coupang formed a situation response team directly under the CEO to respond, and it is reported that Vice President of Safety Management In-Jong Yoo is in charge of the situation.
Author/ Translator: Jamie Kim
Bio: Jamie Kim is a technology journalist. Raised in Hong Kong and always vocal at heart. She aims to share her expertise with the readers at blockreview.net. Kim is a Bitcoin maximalist who believes with unwavering conviction that Bitcoin is the only cryptocurrency – in fact, currency – worth caring about.