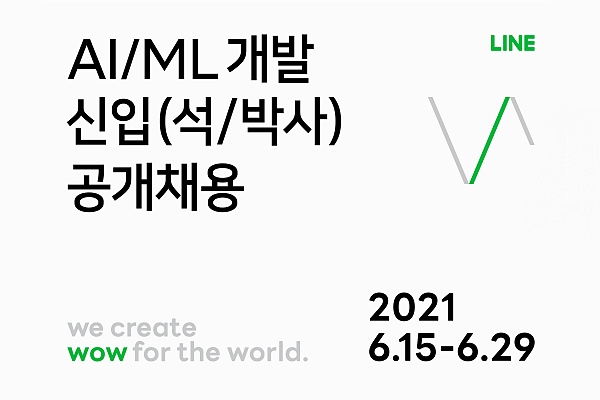 [Digital Today Correspondent Choo Hyeon-woo] Mobile platform service company Line Plus (hereafter Line) will openly recruit new masters and doctorates in AI and machine learning fields.
Recruitment is for those who have a master's degree or higher in computer science and related fields (mathematics, statistics, industrial engineering, etc.) or who have equivalent knowledge. .
The great advantage of LINE developers is that they can collaborate with more than 8,700 colleagues around the world to plan and develop global services, and gain experience in managing large-scale infrastructure and large-scale traffic. To this end, we are looking for volunteers who enjoy learning about new environments and technologies and are active in collaboration.
Recruitment is conducted in the order of an online coding test, assignment screening, the first interview and final interview, and all screenings are conducted 100% online. The application period is until June 29, and you can apply through the recruitment website.
Based on the established remote work culture and infrastructure among global employees, LINE is creating a flexible working environment by applying various types of work, from 100% telecommuting to office work for N days a week. In addition, depending on the situation, we are striving to improve the safety and convenience of the organization, such as preparing LAN cable training for new employees.
Line, which has 187 million monthly active users (MAU) worldwide, is developing various services such as AI, fintech, commerce, entertainment, and games based on its messenger platform. In particular, it completed the management integration with Z Holdings in March, and announced a vision to create new value by realizing AI in all services and to be reborn as a global leading AI tech company.
Author/ Translator: Jamie Kim
Bio: Jamie Kim is a technology journalist. Raised in Hong Kong and always vocal at heart. She aims to share her expertise with the readers at blockreview.net. Kim is a Bitcoin maximalist who believes with unwavering conviction that Bitcoin is the only cryptocurrency – in fact, currency – worth caring about.