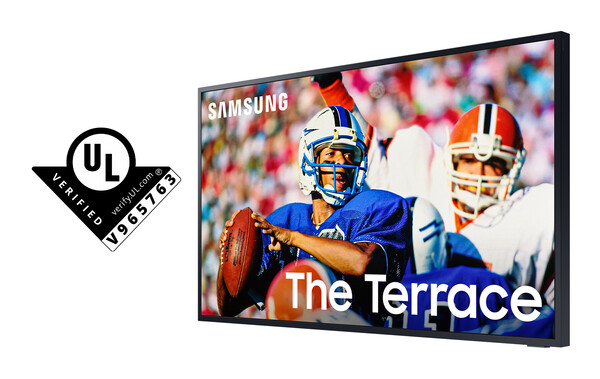 Samsung Electronics' outdoor TV 'The Terrace', which allows you to enjoy high-definition images even in outdoor environments with excellent durability and outdoor visibility, has acquired UL (Underwriters Laboratories) outdoor visibility quality verification for the first time in the industry.
Founded in 1894, UL is a global safety certification organization, headquartered in Illinois, USA, and operating offices in 46 countries around the world.
For outdoor visibility quality verification, brightness of 3000 ~ 4000 nits or more, a contrast ratio of 1000:1 or more, and a color volume of 80% or more should be implemented in outdoor environmental conditions of 10,000 lux (LUX) or more. Excellent performance in outdoor environments has been verified.
'The Terrace' not only displays a bright screen so that you can comfortably enjoy the video outdoors even in the middle of the day, but also ▲QLED display ▲Anti-reflection technology that reduces light reflected on the screen ▲Automatically optimizes the optimal value according to external illumination. It has the performance to increase visibility by applying the AI ​​quality optimization function that adjusts the screen brightness.
In addition to 'The Terrace', commercial outdoor signage products (OH55A) used in outdoor environments also obtained outdoor visibility and quality verification.
Samsung Electronics' outdoor display products, including 'The Terrace', are designed to meet the requirements of IP55 and IP56 as stipulated by the International Electrotechnical Commission (IEC) in consideration of the importance of dustproofing and waterproofing in outdoor environments exposed to rain and wind and dust. have been graded
"The Terrace is a product that has improved usability in outdoor environments, and has proven its performance through this verification," said Yonghoon Choi, Vice President of Visual Display Business at Samsung Electronics. We will do our best to quickly apply it to customers so that they can enjoy various benefits."
Author/ Translator: Jamie Kim
Bio: Jamie Kim is a technology journalist. Raised in Hong Kong and always vocal at heart. She aims to share her expertise with the readers at blockreview.net. Kim is a Bitcoin maximalist who believes with unwavering conviction that Bitcoin is the only cryptocurrency – in fact, currency – worth caring about.