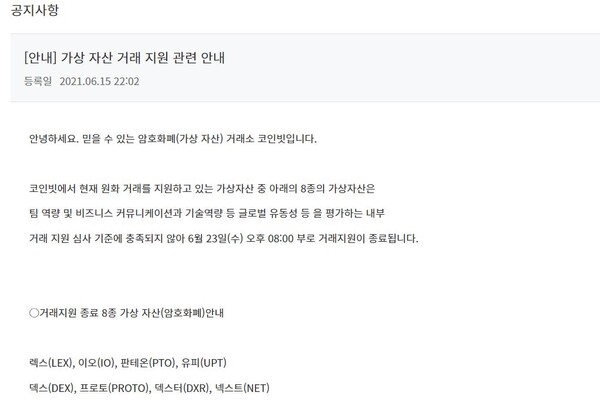 [Digital Today Reporter Jeong-eun Moon] Major domestic virtual asset exchanges are closing virtual asset transactions one after another and designating important stocks. In particular, virtual assets issued by the exchange are being closed sequentially.
On the 15th, Coinbit announced on its website 8 types of virtual assets subject to termination of transaction support and 28 types of items that are subject to investment consideration. On this day, Coinbit will end support for eight types of transactions: LEX (LEX), IO (IO), Pantheon (PTO), UPT, DEX (DEX), Proto (PROTO), Dexter (DXR), and Next (NET). said it would After the announcement, it was explained that only withdrawals of these virtual assets are supported, which is valid until 8:00 pm on the 29th.
These eight types also included virtual assets such as Dex and Dexter issued by Coinbit. Coinbit explained that this is in accordance with the 'Virtual Asset Transaction Management Plan' announced by the government last month.
According to the 'Virtual Asset Transaction Management Plan', the government announced that by amending the Enforcement Decree of the Specific Financial Information Act (Special Provisions Act), virtual asset business operators are prohibited from brokering or arranging for the sale or exchange of their own issued virtual assets.
Previously, Gdac also announced on the 9th that it would delist 9 types including Gdak Token (GT) issued by itself. Huobi Korea also announced that it will end support for Huobi Token (HT) trading. Although Huobi Token is an exchange token issued by Huobi Global, it was decided to terminate the transaction in consideration of potential misunderstandings during consultation with financial authorities.
However, Coinbit explained, "Dexter and Next will be listed on overseas exchanges, and Dex will support deposits and withdrawals on Digifinex (overseas exchange)," and explained, "This is an investor protection measure."
The designation of a large number of important stocks by exchanges continues. Coinbit also announced 28 types of virtual assets designated as significant items along with the end of transaction support. Coinbit said, "The 28 types did not meet the internal evaluation criteria for evaluating global liquidity such as team competency, business communication and technology capabilities." "After the final examination on the 23rd, a separate notice will be provided."
The measures taken by these exchanges have accelerated since Upbit announced the end of support for 30 types of trading and important stocks on the 11th. Also, as the business registration date approaches, there are many views that exchanges will continue to show up.
An official from a large domestic virtual asset exchange said, "Consulting with the financial authorities has been carried out, and exchanges have no choice but to manage risk from various angles in preparation for filing a report on the Special Provisions Act." There will be more cases of delisting like this," he said.