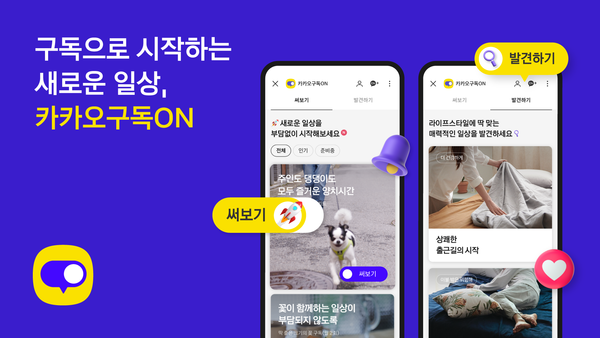 [Digital Today Correspondent Choi Ji-yeon] Kakao announced on the 15th that it will introduce 'Subscription ON', a regular subscription platform where you can meet a variety of products and services that can be subscribed to at a glance.
In addition to adding a function to allow partners to showcase subscription products on the KakaoTalk channel in November of last year, the company explained that the space has been expanded so that users can discover and experience subscription products that fit their lifestyle.
In Subscription ON, you can meet a variety of subscription products, including physical products such as food, home appliances, and daily necessities, as well as intangible services such as cleaning and laundry. Kakao plans to curate and introduce various types of subscription products, such as lifestyle care services, through weekly product updates.
This service makes it easy for users to manage their subscriptions. Previously, you had to manage subscriptions for each product or brand, but in Subscription ON, you can comprehensively manage subscriptions through the My Page menu, including product details, payment schedule confirmation, and cancellation request.
To use, you can access directly through the KakaoTalk More tab without installing a separate app, and subscribe to the product you want in the Write tab and Discover tab in Subscription ON. In the Tryout tab, discount and free subscription trial products are introduced so that users can start a subscription without burden.
The Discover tab is a curation space that suggests experiences to users. By curating subscription products that add convenience to daily life and enrich leisure life, we offer a variety of special exhibitions so that users can consume their lifestyle.
Partners can systematically manage the entire process of providing subscription services through the subscription service platform (SSP). ▲ Order availability confirmation (credit rating inquiry) ▲ Electronic contract (automatic contract creation and signature) management ▲ Billing and settlement, etc. It is also possible to efficiently manage various tasks necessary for rental/regular delivery business operation.
A Kakao official said, "We decided to plan Subscription ON as a means of helping people experience diverse daily lives, rather than simply purchasing and owning products." "Through KakaoTalk, users discover new experiences and manage subscriptions easily We plan to upgrade our services so that we can do this."