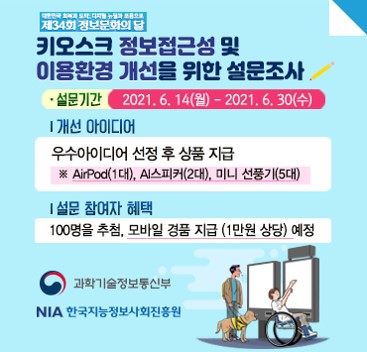 [Digital Today Reporter Jeong Yu-rim] The Ministry of Science and ICT (Minister Hye-sook Lim) will conduct an online campaign for citizens to raise awareness about improving information accessibility at kiosks for 15 days from the 14th to the 30th.
In this campaign, a kiosk user experience survey, a contest for ideas that can improve kiosk access and use in the future, and a contest to suggest a name that well expresses 'kiosk with guaranteed access to information' are conducted.
In commemoration of the 'Information Culture Month' in June, the government prepared this campaign to arouse public interest in the issue of kiosk accessibility and to solve the problems of neighbors in the digital age with creative ideas through direct participation of citizens.
The survey results and citizen suggestions will be reflected in future kiosk accessibility improvement policies.
Anyone can participate in this online campaign at Gwanghwamun 1st Avenue (www.gwanghwamoon1st.go.kr). When participating in the survey, a lottery (100 people) will give out mobile prizes worth 10,000 won, and a small prize will also be given for creative idea suggestions.
Results including winnings can be found on the website of Gwanghwamun 1st Street in July.
Author/ Translator: Jamie Kim
Bio: Jamie Kim is a technology journalist. Raised in Hong Kong and always vocal at heart. She aims to share her expertise with the readers at blockreview.net. Kim is a Bitcoin maximalist who believes with unwavering conviction that Bitcoin is the only cryptocurrency – in fact, currency – worth caring about.