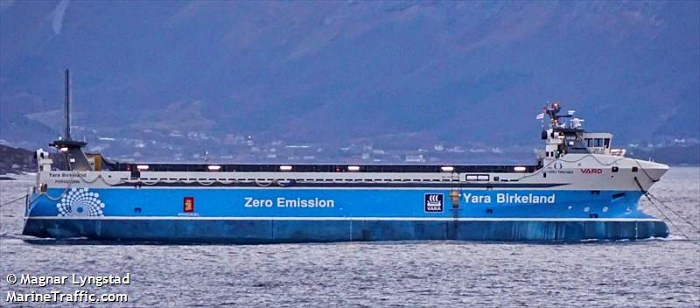 [Digital Today Correspondent Choo Hyeon-woo] The world's first self-navigating electric cargo ship is scheduled to start operating in Norway soon.
According to Electric Vehicle Specializing in electric vehicle media on the 8th (local time), the vessel called 'Yara Birkeland' is a self-navigating electric container ship.
The self-navigation function is also incorporated into an electric ship using a battery and motor rather than a gas turbine or diesel engine. Norwegian shipbuilder Kongsberg Maritime started production in 2017 and launched in 2020, and is said to be in the final stages of test operation.
The self-navigating electric containership operated by Norwegian fertilizer company Yara International is scheduled to enter commercial operation this year.
According to local media, Yarra Buckland will be used for short- and medium-distance container transport in Norway's inland waters. Yara International's plan is to expand the use of autonomous electric cargo ships in earnest in the future after going through a small commercial operation phase for about two years.
Yara Buckland performs fully automatic container loading and unloading, vessel operation and mooring. The goal is to achieve a high degree of automation, unmanned operation, cost reduction, and zero carbon emission with minimal manpower input. Yara International said the Yara Buckland operation could replace 40,000 diesel truck shipments per year.
If the introduction of electric ships such as the Yarra Buckland proves to be a successful means in terms of cost and eco-friendliness, it is expected to make a significant contribution to controlling global carbon emissions.
According to the International Maritime Organization (IMO), as of October 2020, more than 1 billion tons of carbon (CO2) emissions are being generated annually by sea transport worldwide, and it aims to reduce carbon emissions by at least 50% by 2050. have.
Author/ Translator: Jamie Kim
Bio: Jamie Kim is a technology journalist. Raised in Hong Kong and always vocal at heart. She aims to share her expertise with the readers at blockreview.net. Kim is a Bitcoin maximalist who believes with unwavering conviction that Bitcoin is the only cryptocurrency – in fact, currency – worth caring about.