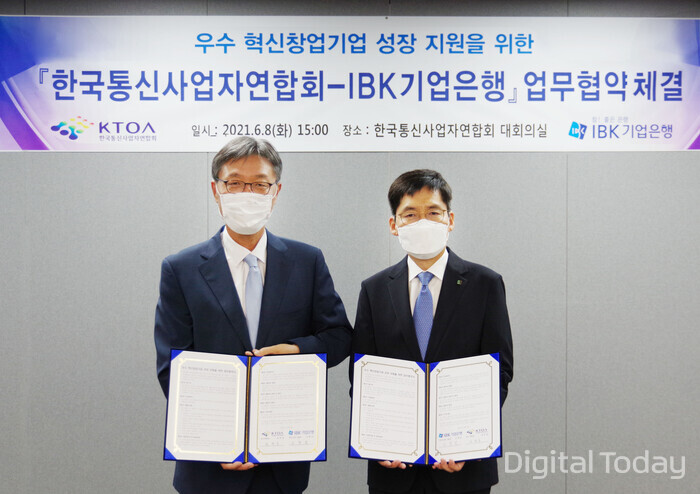 [Digital Today Correspondent Jin-gyu Kang] IBK Industrial Bank of Korea (CEO Jong-won Yoon) announced on the 9th that it had signed a 'business agreement to support the growth of excellent innovative startups' with the Korea Telecommunications Operators Association (Chairman Koo Koo) on the 8th.
Through this agreement, the two organizations will establish a mutual cooperation system between IBK Industrial Bank's startup incubation platform 'IBK Changgong' and the Federation Startup Support Center and support the growth of startups with excellent technological and business potential.
IBK Industrial Bank of Korea provides financial services such as investment and loans to companies recommended by the Federation. In addition, the company plans to hold an IR event jointly with the Federation twice a year.
The first IR event will be held on the 10th, and 8 telecommunication companies who want to discover and advance into new businesses and 8 companies from IBK Changgong who want to link their business will participate.
An official from IBK Industrial Bank of Korea said, "We plan to establish a continuous collaboration system with companies and institutions in various industries to expand the market for IBK Changgong innovative startups.
Author/ Translator: Jamie Kim
Bio: Jamie Kim is a technology journalist. Raised in Hong Kong and always vocal at heart. She aims to share her expertise with the readers at blockreview.net. Kim is a Bitcoin maximalist who believes with unwavering conviction that Bitcoin is the only cryptocurrency – in fact, currency – worth caring about.