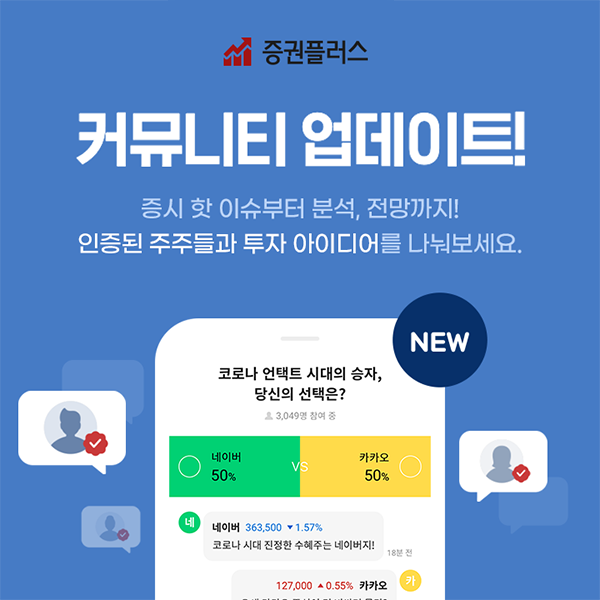 [Digital Today Correspondent Moon Jeong-eun] Dunamu, a company specializing in blockchain and fintech, announced on the 8th that it would open a 'National Securities Community' by creating a new community tab in the securities application 'Securities Plus'.
In the Securities Plus community, you can see the vivid opinions of real shareholders. The key is the 'shareholder authentication' function. The certification mark is exposed in the post of the author who has passed the shareholder certification. Depending on the author's choice, the number of shares held and even the yield may be disclosed.
There are also menus with enhanced participation and communication. 'Theme Voting' intuitively shows the reactions of Securities Plus users to current stock market issues. In the 'Popular Stocks Discussion Room', you can check the reactions of investors that change from moment to moment through the most popular stocks and posts on Securities Plus in real time.
In addition, in 'Securities Plus PICK', you can check stock market issues directly selected by the Dunamu Content Value Team. In 'Weekly Practical Ranking', you can see the yield rankings of Securities Plus users.
An official from Dunamu said, "After thinking about the type of information that investors want to see and know, we have opened the community." "In the Securities Plus community, it is helpful to exchange opinions and practice without the cost of determining the authenticity of information. It will be possible to gain valuable insights."
Author/ Translator: Jamie Kim
Bio: Jamie Kim is a technology journalist. Raised in Hong Kong and always vocal at heart. She aims to share her expertise with the readers at blockreview.net. Kim is a Bitcoin maximalist who believes with unwavering conviction that Bitcoin is the only cryptocurrency – in fact, currency – worth caring about.