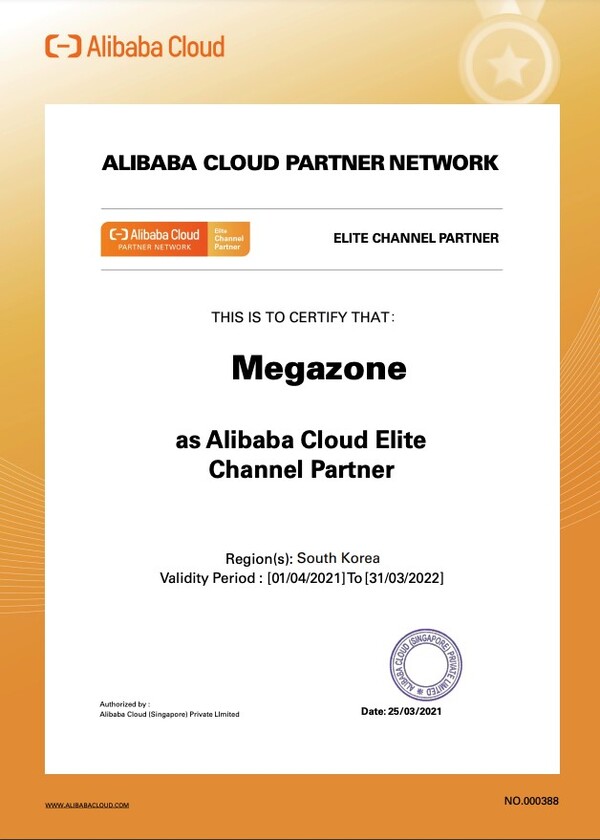 [Digital Today Correspondent Hwang Chi-gyu] Megazone (CEO Lee Ju-wan), a cloud specialized company, announced on the 7th that it has acquired the elite grade, the highest among partner grades of 'Alibaba Cloud Intelligence', a global cloud service.
Megazone entered into a partnership with Alibaba Cloud Intelligence in 2016 and was certified as the first Alibaba Cloud Enterprise Support MSP service partner in Korea in 2018. In April of last year, it secured the domestic exclusive distribution rights.
According to market researcher Gartner, Alibaba Cloud holds the No. 1 market share in the Asia-Pacific IaaS market for the fourth consecutive year and the third in the world, and in the education cloud sector, it has a 24.3% share of the global market.
Megazone said, "The 'elite partner' grade obtained this time was obtained only by a small number of MSP operators in the world, and it is meaningful in that Megazone's cloud expertise and operation management process were certified through Ali Cloud." said.
Lee Joo-wan, CEO of Megazone, said, "We have laid the groundwork to more systematically provide technical support and infrastructure construction consulting services through Alibaba Cloud to startups and domestic companies that want to advance into China in Korea. We will do our best to provide systematic support for our business."
Author/ Translator: Jamie Kim
Bio: Jamie Kim is a technology journalist. Raised in Hong Kong and always vocal at heart. She aims to share her expertise with the readers at blockreview.net. Kim is a Bitcoin maximalist who believes with unwavering conviction that Bitcoin is the only cryptocurrency – in fact, currency – worth caring about.