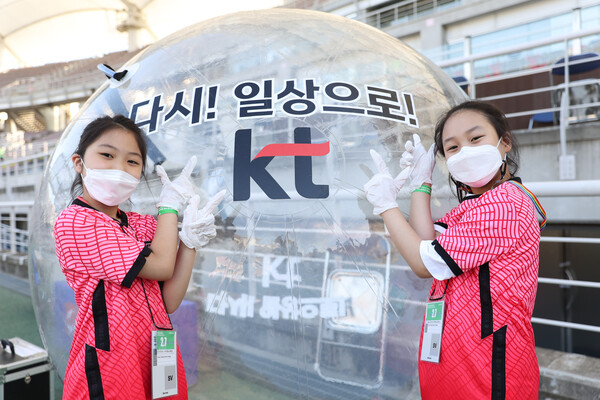 [Digital Today Reporter Baek Yeon-sik] KT announced on the 6th that it showed the 'Bubble Kids Escort' in the match between Korea and Turkmenistan in the second qualifying round of the 2022 Qatar World Cup held at the Goyang Sports Complex on the 5th.
KT cheered for the victory of the Korean men's soccer team by high-fiving the 'player escort', where players and children usually enter holding hands.
The Bubble Kids Escort with Olleh TV Kids Land will be held in the same way in the remaining two games (Sri Lanka vs. Lebanon) with the hearts of children longing for victory.
KT plans to continuously introduce various marketing strategies to connect national players and soccer fans in various ways during the Olympic evaluation game in July and the final qualifying round for the World Cup in the second half of the year.
Author/ Translator: Jamie Kim
Bio: Jamie Kim is a technology journalist. Raised in Hong Kong and always vocal at heart. She aims to share her expertise with the readers at blockreview.net. Kim is a Bitcoin maximalist who believes with unwavering conviction that Bitcoin is the only cryptocurrency – in fact, currency – worth caring about.