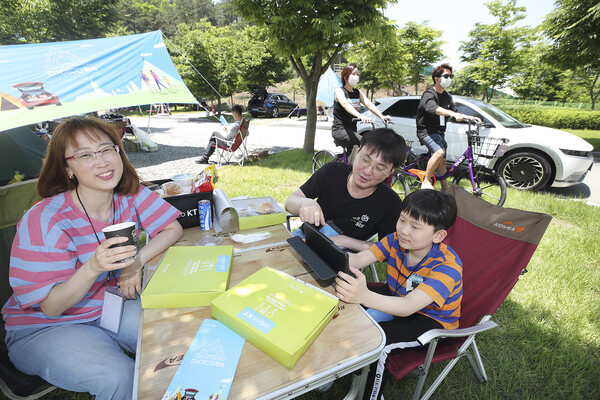 [Digital Today Reporter Baek Yeon-sik] KT announced on the 6th that it had held the second 'DIGICO Camping' where you can experience various digital platform services while enjoying car camping with an electric car. This Digico Camping was created in collaboration with the Korea Tourism Organization and Anseong City.
Recently, as the popularity of outdoor camping away from the city has increased, the vicinity of Gyeonggi-do, which is easily accessible from the metropolitan area, is attracting attention as a place where you can easily leave. The Digico Camping, which was held following April, was held at 'Anseong Mammam Land', a small potential tourist destination selected by the Korea Tourism Organization.
Participating families experience the non-face-to-face food service of 'AI Cooking Robot' at a camping site using an eco-friendly electric vehicle, and receive recommendations for movies and dramas using AI curation of KT's video service 'Seezn' did. In addition, he participated in the 'LAN cooking' class held in Seoul with 'KT BIZ MEET' and enjoyed camping while cooking dinner.
After CEO Koo Koo announced the transition to a digital platform company, KT is trying various communication methods to easily deliver and experience 'ABC (AI/Big Data/Cloud)' technology. Digital 6-second YouTube video series 'Digico KT Doodle', TV commercial narrated by actress Yoon Yeo-jeong, and 'Digico Camping' where KT's connected car technology is applied and KT ABC technology are being experienced. have.
Kim Hyung-wook, vice president of KT Future Value Promotion Office, said, "This second Digico camping has become a more meaningful event in collaboration with the Korea Tourism Organization and Anseong City. We will continue to cooperate with KAC, while collaborating with various companies and local governments."
Author/ Translator: Jamie Kim
Bio: Jamie Kim is a technology journalist. Raised in Hong Kong and always vocal at heart. She aims to share her expertise with the readers at blockreview.net. Kim is a Bitcoin maximalist who believes with unwavering conviction that Bitcoin is the only cryptocurrency – in fact, currency – worth caring about.