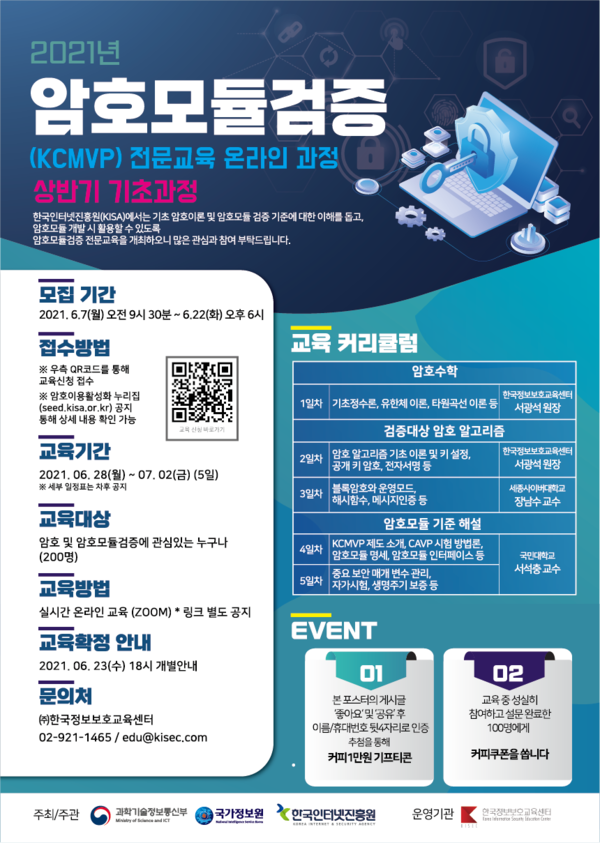 [Digital Today Reporter Baek Yeon-sik] The Korea Internet & Security Agency (KISA), together with the National Intelligence Service and the Ministry of Science and ICT, has developed the '2021 Cryptographic Module Verification Professional Education' for nurturing cryptographic module verification experts and fostering the cryptographic industry as a basic and in-depth course. Divided twice a year. KISA announced on the 6th that the basic education for the first half of this year will be held online for 5 days from the 28th to the 2nd of the next month.
Cryptographic module verification is a system that verifies the safety and implementation suitability of cryptographic modules used to protect important information that is not classified as confidential of administrative and public institutions stored and distributed through information and communications networks.
Last year, for the first time, KISA conducted a cryptographic module verification basic education to help understand the basic cryptographic theory and cryptographic module verification standards. As a result of conducting a survey on the educational effect of last year's students, 70.2% said 'It is helpful to use their job when developing an encryption module', and 74% said 'the level of understanding and knowledge improved after training compared to before training' answered.
The second 'Cryptographic Module Verification Specialized Education' this year was organized in addition to the basic course, in addition to the basic course, reflecting the opinions of students from the previous year. First, the 'Basic Education' course in the first half consists of ▲Basic Crypto Math ▲Cryptographic Algorithms such as Symmetric Keys and Public Keys ▲Cryptographic Module Verification System and Test Methodology ▲Cryptographic Module Verification Test and Verification Standards, etc. Focusing on implementation, it will proceed with precautions for implementation.
Anyone interested in cryptographic theory and cryptographic module verification can apply for this basic training course, and the application period is from the 7th to the 22nd. More details can be found on the notice on the password use activation website.
Choi Kwang-hee, head of KISA's Digital Security Industry Headquarters, said, "In accordance with government policies such as promoting K-cyber prevention and fostering non-face-to-face service industries, the use of cryptographic products is increasing in various industries." , and we expect it to lead to the development of the crypto industry."
Author/ Translator: Jamie Kim
Bio: Jamie Kim is a technology journalist. Raised in Hong Kong and always vocal at heart. She aims to share her expertise with the readers at blockreview.net. Kim is a Bitcoin maximalist who believes with unwavering conviction that Bitcoin is the only cryptocurrency – in fact, currency – worth caring about.