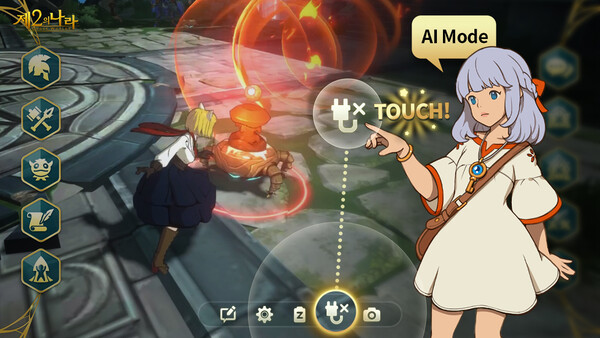 [Digital Today Correspondent Choi Ji-yeon] Netmarble announced on the 4th that it will develop and introduce a new artificial intelligence (AI) mode for the emotional adventure RPG 'Second Country: Cross Worlds' to be released on the 10th.
Netmarble introduced the AI ​​function to the existing mobile game 'non-connection mode'. The second country AI mode is a method in which the server's logic controls the character AI to move it within the server. Because of this, even if the user does not actually play, the character is active in the game.
Influence and influence other users' play. For example, you may hunt with other users in a field with high difficulty, and in some cases you may receive PK (Player Kill).
Park Beom-jin, the head of development of Netmarble Neo, who developed the second country, said, "I developed the AI ​​mode because I thought it was important to interact with other users in a second country and to be influenced by other users in any form." You will be able to see the characters of Nara 2 come alive in that world."
The second country that Netmarble is preparing is a mobile game that reinterprets the fantasy RPG 'Nino Kuni', which was created in collaboration with Level Five and Studio Ghibli. Users can enjoy various contents while walking around the world made of Ghibli-style art as if they were the main characters of animation.
In the second country, the story of saving a nameless kingdom unfolds densely by moving back and forth between two worlds. The game sound will be supervised by Joe Hisaishi, who was in charge of the Ghibli animation OSTs such as 'Howl's Moving Castle' and 'Ponyo on the Cliff', and will show a different atmosphere that has not been seen in existing mobile RPGs.
Pre-registration is currently in progress, and all participants are presented with Imazen 'Woowang', 'Shinnam Hunya' game emoticons, '100 HP Small Potions', and 'Gold 50,000' to all participants. You will receive a 'Wood-deck Hat' and a 'Costumes Draw Ticket (10 pieces)'.
Author/ Translator: Jamie Kim
Bio: Jamie Kim is a technology journalist. Raised in Hong Kong and always vocal at heart. She aims to share her expertise with the readers at blockreview.net. Kim is a Bitcoin maximalist who believes with unwavering conviction that Bitcoin is the only cryptocurrency – in fact, currency – worth caring about.