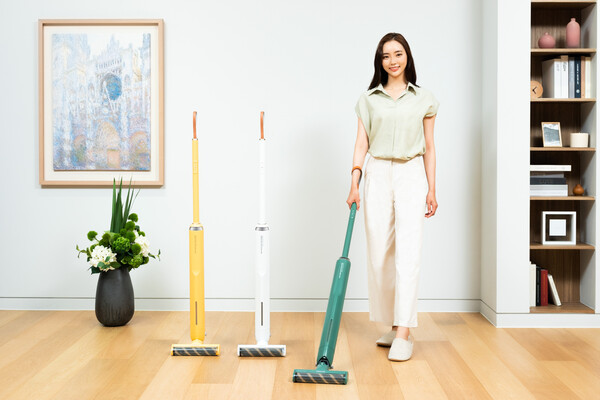 [Digital Today Correspondent Cho Shin-Eum] Samsung Electronics launched a new wireless vacuum cleaner 'Bespoke Slim' on the 3rd.
Samsung Electronics explained that it has significantly strengthened its cordless vacuum cleaner lineup by launching a bespoke slim following the bespoke jet and bespoke jet bot AI previously introduced.
Samsung Bespoke Slim has been redesigned from key parts to accessories to not only realize a design that suits any space, but also greatly improves cleaning performance.
In particular, Samsung's proprietary technology is applied to the digital inverter motor, which is a key component, so that it rotates at a high speed even though it is ultra-light to realize a strong suction power of up to 150W (watts).
The digital inverter motor applied to the new product provides a 'lifetime warranty' service, allowing consumers to repair or replace parts free of charge if they break down while using the product.
The 'Slim Soft Floor Brush' applied to Samsung Bespoke Slim rotates up to 1500 times per minute and repeatedly sweeps and sucks to effectively remove dust in corners and crevices of walls.
In addition, silver thread material is applied to the inner drum of the brush to prevent static electricity from being generated, and it maintains its unique color even if it is dusty.
The battery is also optimized for capacity while reducing weight and volume, so it can be cleaned for up to 50 minutes in normal mode.
Samsung Bespoke Slim provides a differentiated cleaning experience by enhancing the ease of use throughout the cleaning process, from product storage to dust emptying.
By applying a 'self-standing' structure that can stand up without a separate cradle, it is easy to store without space restrictions, and it is convenient because it can be placed right there in the event of an urgent need during cleaning.
In addition, the ergonomic design that efficiently distributes the load reduces the burden on the wrist, and adds a strap that can be wrapped around the wrist during cleaning to increase the ease of use.
This new product is also equipped with a 'Pop & Shoot' function that prevents you from bending your back when emptying the dust and keeping the dust out of your hands.
This is a simple method to remove the brush by stepping on the pedal while standing, then place the main body on the trash can and press a button to open the dust bin and discharge the dust.
If you purchase a compatible connector sold separately, you can also use an existing cleaning station to empty the dust.
In addition, by applying the 'StarDust' LED display that intuitively informs the status of the product, the battery charge level is subdivided into 5 stages and displayed on the LED when a problem occurs such as emptying the dust bin or clogging the filter. .
Bespoke Slim is available in three colors: Misty White, Greenery, and Sun Yellow.
Hyesoon Yang, Executive Vice President of Samsung Electronics' Home Appliance Business Division, said, "We expect the Bespoke Slim with a sensuous design and strong suction power to satisfy consumers' diverse cleaning needs. I will go out," he said.