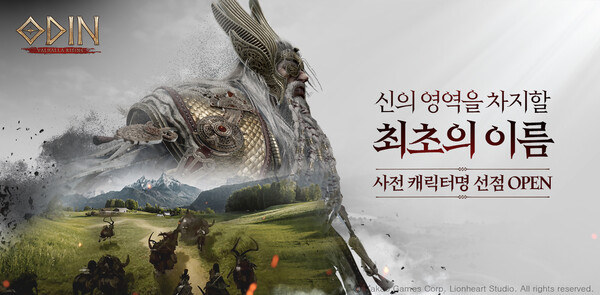 [Digital Today Reporter Choi Ji-yeon] Kakao Games will officially release the new mobile MMORPG 'Odin: Valhalla Rising (hereinafter 'Odin')' on June 29th.
Kakao Games announced the release date of 'Odin' through 'Virtual Showcase' held online on the 2nd. 'Odin' can be pre-downloaded through Google Play and Apple App Store from June 28, and will be officially released on June 29.
The event was attended by Kakao Games CEO Jo Gye-hyun and Lionheart Studio CEO Kim Jae-young.
This showcase was held through cutting-edge technology that combines augmented reality (AR) and extended reality (XR) for the first time in the domestic game industry. The company explained that the background and play scenes in the game produced by the actual in-game engine vividly delivered a different level of graphics, raising expectations even more.
In this showcase, for the first time, four types of classes that can change jobs were introduced and related videos were released. It also explained the enjoyment of 'Odin', such as many-to-many combat elements and party dungeons in the form of instance dungeons.
Kakao Games CEO Jo Gye-hyun said, "Odin is an MMORPG with the best graphics and differentiated system based on the Nordic worldview, and I am confident that it will become the best game in 2021." "We will do our best with Lionheart Studio to provide quality service. I will do it," he said.
'Odin', which is in the final stages of its release, is ▲ the best graphics using Unreal Engine 4, 3D scanning, and motion capture technology, ▲ the world view of Norse mythology ▲ an open world that embodies a huge continent, ▲ plays organic roles between characters, ▲ explosive It plans to present a vast amount of content, such as a large-scale war that gives the pleasure of battle.
Starting from the 2nd, Odin will hold a pre-character name and server preemption event along with a showcase. Users who participated in pre-reservation can preempt the character name and server through the showcase official website and the Kakao Game pre-reservation page.
Author/ Translator: Jamie Kim
Bio: Jamie Kim is a technology journalist. Raised in Hong Kong and always vocal at heart. She aims to share her expertise with the readers at blockreview.net. Kim is a Bitcoin maximalist who believes with unwavering conviction that Bitcoin is the only cryptocurrency – in fact, currency – worth caring about.