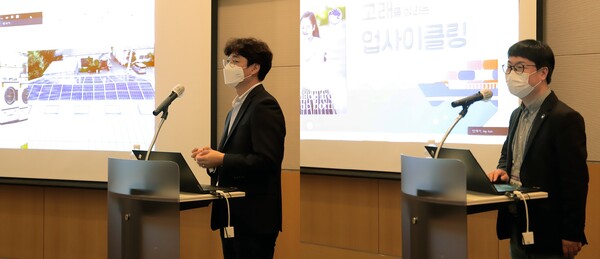 [Digital Today Reporter Kim Yang-ha] SK Innovation's social enterprise support program is attracting the attention of academia.
The Society of Social Enterprises (Chairman Park Jae-hwan, Professor of Chung-Ang University) held a seminar on the subject of'The Social Role of Social Enterprises in the Untact Era and Creation of Social Value' at the FKI Center in Yeouido on the 28th.
At the event, representatives of social enterprise representatives and expert groups, including professors and researchers of the Social Enterprise Association, participated in the event to discuss success strategies that create the role and value of social enterprises.
In particular, Lee-Hyun Choi, CEO of Moredan, and Eui-Hyun Byun, CEO of Ushisan, who are supported by SK Innovation as major presenters, each announced their success strategies.
The conference took time to analyze SK Innovation's strategy to support social enterprises through subsequent presentations and discussions.
The Society evaluated that SK Innovation found that the satisfaction was quite high with customized support that identified the needs of beneficiaries.
In particular, SK Innovation's support program ▲guarantees management rights in a form that does not take over shares of social enterprises ▲supports initial funding for stable business operation ▲helps social enterprises in terms of infrastructure that are difficult to equip themselves. I paid attention to the part and so on.
SK Innovation has developed specialized sustainable business models so that social enterprises can become self-reliant without support in the future, and continued various support activities for self-reliance.
In addition, he did not spare any advice using the infrastructure of large corporations such as public relations, finance, and legal affairs.
Through this, many social enterprises such as More Dan, Wuxi Mountain, Grape Lab, and Millennium Nuri Jeonju Bread are contributing to their growth.
"We will continue to provide support in the future so that social enterprises can become independent and create a virtuous cycle structure that creates more social value," said SK Innovation's head of the Value Creation Center.