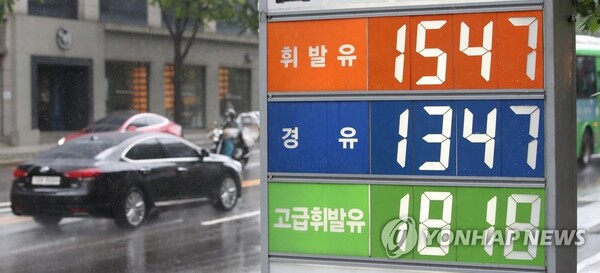 Gasoline prices at gas stations nationwide continued to rise for the fourth consecutive week.
According to Korea National Oil Corporation's Oil Price Information Service Opinet, the average sales price of gasoline at gas stations nationwide in the fourth week of May (5.24~27) rose 4.9 won to 1547.5 won per liter from last week.
Domestic gasoline prices have risen for 20 consecutive weeks since the end of November last year, but remained flat last month.
Then, in May, the first week was 0.3 won, the second week was 2.7 won, and the third week 5.6 won.
By region, Seoul, the highest priced area, was 1630.6 won per liter, 83.2 won higher than the national average.
Daegu, the lowest priced area, was 31.1 won lower than the national average at 1516.4 won per liter.
The sales price of diesel at gas stations nationwide was 1344.4 won per liter, up 4.8 won from the previous week.
International oil prices have risen since last week amid anticipation of a global economic recovery.
The average price of Dubai oil, which is the standard for crude oil imported into Korea, was 66.7 dollars per barrel, up by 0.7 dollars from last week.
International gasoline prices rose 1.2 dollars to 74.7 dollars per barrel, and international automobile diesel prices rose 0.6 dollars to 74.6 dollars per barrel.
The Korea Oil Corporation explained, "The international oil prices recorded an uptrend this week thanks to favorable US employment indicators, a decline in US crude oil stocks, and expectations for improvement in oil demand.