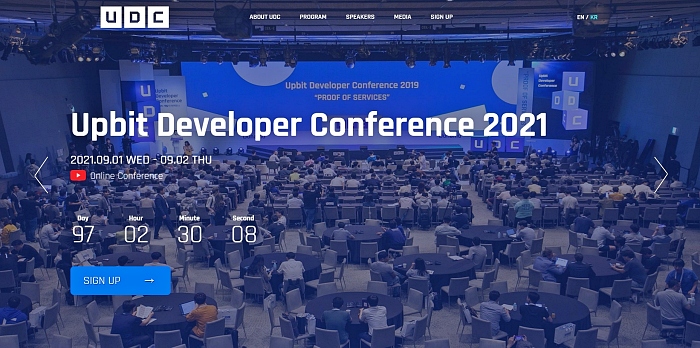 [Digital Today Reporter Choo Hyun-woo] Blockchain developers' festival'Upbit Developer Conference (hereinafter referred to as UDC)' will be held online for free on September 1 (Wed) and September 2 (Thu).
On the 27th, Dounamu, a blockchain and fintech company, announced that it will open the UDC 2021 official website (udc.upbit.com) and make advance reservations.
UDC, which marks its fourth year this year, is a huge venue for blockchain developers to share knowledge, free discussion, and networking, and is the world's first'developer-centered' blockchain conference. It will be held online this year, following last year, in line with the untact trend that has spread due to the prolonged Corona 19.
It will be broadcast on YouTube's official UDC channel for two days, September 1 (Wed) and September 2 (Thu), and will cover various topics related to blockchain, such as the latest technology trends and future industry prospects. Blockchain industry practitioners as well as those interested in blockchain can watch it anywhere in the world for free.
Prior to this event, advance reservations will be made on the official website of UDC 2021 until August 18 (Wed). Advance reservations are the first to receive the latest news of UDC 2021, and among them, 20 people selected through a lottery will receive certain products such as coffee gifticons.
An official from Doona said, "This year, we will look at the overall trend of the blockchain industry and introduce major issues to be prepared for in 2022." Said.
Author/ Translator: Jamie Kim
Bio: Jamie Kim is a technology journalist. Raised in Hong Kong and always vocal at heart. She aims to share her expertise with the readers at blockreview.net. Kim is a Bitcoin maximalist who believes with unwavering conviction that Bitcoin is the only cryptocurrency – in fact, currency – worth caring about.