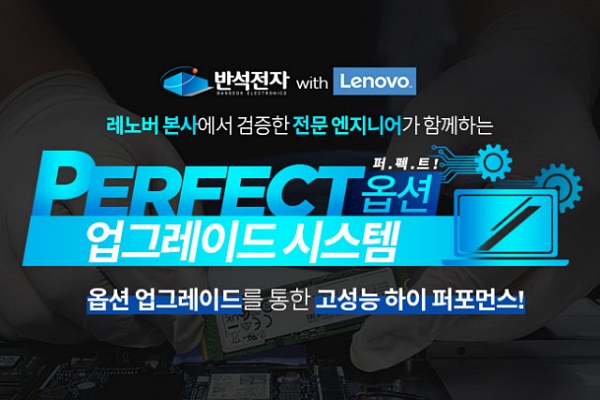 [Digital Today Reporter Choo Hyun-woo] On the 27th, the official Lenovo retailer, Banseok Electronics, announced on the 27th that it will be holding a'Perfect Upgrade' event that provides powerful performance for Lenovo notebook users.
Banseok Electronics' self-implemented notebook option addition will be replaced under the same conditions as the existing part specifications under the work of skilled engineers in order to restore customer reliability related to the upgrade. There are three options to choose from: memory, storage, and operating system.
The memory is replaced or added with the same clock and used memory. The hard disk or SSD is also replaced or added with the same specifications or higher specifications as the existing storage devices. The operating system is installed with Windows 10, a genuine Microsoft operating system.
Banseok Electronics is upgrading parts that are compatible with Lenovo notebooks through professional engineers verified by Lenovo headquarters.
The upgrade process goes through three stages of △ product opening △ option installation △ safety packaging after inspection, and proceeds safely and carefully in the hands of a professional engineer. In addition, we aim to always deliver in safe packaging.
Details of this upgrade can be found in the Perfect Upgrade Notice posted on the Banseok Electronics website, and you can contact Banseok Electronics by wire.
Founded in 2007, Banseok Electronics, an online IT distribution company, specializes in notebooks and PCs and distributes Lenovo notebooks, PCs, smartphones, tablets, and peripherals.
Author/ Translator: Jamie Kim
Bio: Jamie Kim is a technology journalist. Raised in Hong Kong and always vocal at heart. She aims to share her expertise with the readers at blockreview.net. Kim is a Bitcoin maximalist who believes with unwavering conviction that Bitcoin is the only cryptocurrency – in fact, currency – worth caring about.