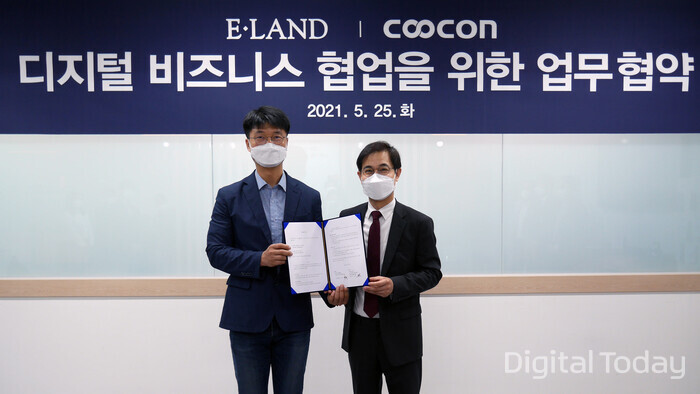 [Digital Today Reporter Kang Jin-gyu] Business data platform company Kukon (CEO Jong-Hyun Kim) announced on the 26th that it has signed a business agreement for digital business collaboration with E-Land World (CEO Choi Jong-yang and Choi Unsik).
The agreement ceremony held at the Kukon headquarters in Yeongdeungpo, Seoul on the 25th was prepared for the purpose of enhancing E-Land's own distribution platform and creating a new business model through collaboration between the two companies.
After the signing ceremony, the two companies plan to promote digital business-related collaboration, such as building E-Land's own pay service, reinforcing my data-based personalization service, and accelerating digital transformation using business data.
Kukon supports the establishment of'E-Land Pay' through account-based simple payment products. E-Land Pay is an E-Land's own simple payment service that combines membership and pay, and is scheduled to open offline payments in the third quarter of 2021, and will be installed on E-Land's platform and official website of each brand within this year.
In addition, the two companies are planning to cooperate to enhance the E-Land distribution platform, such as implementing customized services by utilizing the financial information and my data infrastructure provided by Kucon. E-Land plans to expand its business area sequentially with the goal of'building a distribution innovation fintech platform'.
Kim Jong-hyun, CEO of Kukon, said, "The strategic alliance between E-Land World, which operates various business groups such as distribution, fashion, and dining out, will create synergies in various fields including the fintech area. I will not spare any support so that it can be promoted successfully."
Author/ Translator: Jamie Kim
Bio: Jamie Kim is a technology journalist. Raised in Hong Kong and always vocal at heart. She aims to share her expertise with the readers at blockreview.net. Kim is a Bitcoin maximalist who believes with unwavering conviction that Bitcoin is the only cryptocurrency – in fact, currency – worth caring about.