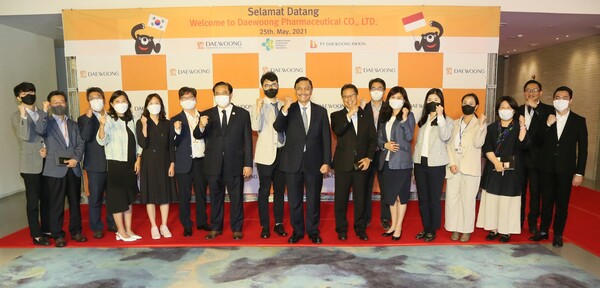 [Digital Today Reporter Cho Seung-ho] Daewoong Pharmaceutical (CEO Jeon Seung-ho) announced on the 26th that Indonesian Minister of Maritime and Investment Coordination Luhud Binsar Panjaitan and Health Minister Guadi Gunadi Sadikin visited Daewoong Pharmaceutical's Yongin R&D Center.
It is reported that the Indonesian visiting group listened to Daewoong Pharmaceutical's local business plan in the conference room of the R&D center and showed interest in the progress of research and development of innovative new drugs such as stem cell development, as well as corona treatment such as Hoystar and niclosamide.
Next, Daewoong Pharmaceutical promised full support for projects and research and development in Indonesia.
Daewoong Pharmaceutical has been expanding its local business by establishing a biopharmaceutical plant and research institute one after another after establishing a joint venture'Daewoong Infion' in Indonesia in 2012.
In March, Daewoong Pharmaceutical signed an MOU with the National Institute of Health Technology Development (NIHRD) under the Indonesian government to conduct clinical trials for corona treatment in Indonesia.
Seung-ho Jeon, CEO of Daewoong Pharmaceutical, said, "Through this interview, we have confirmed that Daewoong Pharmaceutical and the Indonesian government's direction for pharmaceutical business and R&D are substantially consistent. We plan to build a close cooperative relationship with the Indonesian government through full support for the linkage program," he said.
Indonesian Minister of Maritime Affairs and Investment Coordination Luhud said, "If Daewoong Pharmaceuticals is more active in its business, the Indonesian bio industry will also achieve great growth." "If there is a need for assistance in all things Daewoong Pharmaceuticals wants to do in Indonesia, we will spare no support. I won't."
Author/ Translator: Jamie Kim
Bio: Jamie Kim is a technology journalist. Raised in Hong Kong and always vocal at heart. She aims to share her expertise with the readers at blockreview.net. Kim is a Bitcoin maximalist who believes with unwavering conviction that Bitcoin is the only cryptocurrency – in fact, currency – worth caring about.