[Digital Today Reporter Choi Ji-yeon] On the 25th, Naver and Kakao announced on the 25th that they will cooperate with the Korea Centers for Disease Control and Prevention to start reservation service on the same day of the remaining vaccine for Corona 19. Users who reserved the same day of the remaining vaccine for Corona 19 can use it from 1 p.m. on the 27th.
Naver's'My Neighborhood Vaccine Alert Service' is available on ▲Naver App ▲Naver Map App ▲Naver Mobile Web. Naver provides a real-time reservation and notification service for residual vaccines when users search for'residual vaccine, vaccine same-day reservation, no-show vaccine', etc., so that the amount of waste of the remaining vaccine for Corona 19 can be minimized and unvaccinated vaccines can be used after reservation.
Users can check the quantity of remaining vaccines in real time at nearby medical institutions, or register a vaccination consignment medical institution in advance to receive notifications when remaining vaccines occur and to schedule vaccinations. The personal information of the person who made the vaccination reservation will be confirmed with a safe and convenient Naver certificate.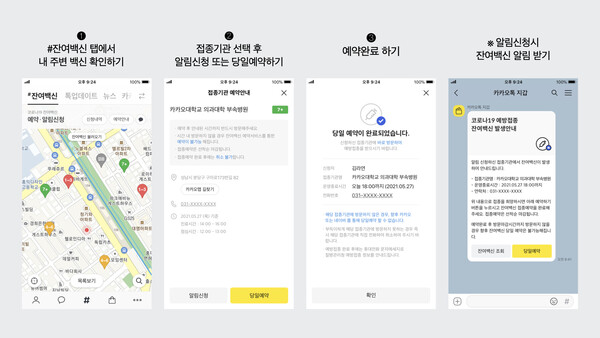 Kakao is available in KakaoTalk #tab'Residual Vaccine'. You can check the information of nearby consignment medical institutions with remaining vaccines in real time and make reservations immediately. The information of the consignment medical institution that has the remaining vaccine is exposed in the form of a map in connection with Kakao Map. At a glance, you can check the location, name of the institution, and the amount of remaining vaccines, and you can also view the list of institutions sorted by the amount of remaining vaccines or by distance.
Those who wish to receive the remaining vaccination can select a consignment medical institution in the'Residual Vaccine' tab, click Make Reservation, and then consent to collection and authentication for the necessary information. Kakao also provides a KakaoTalk notification function so that users can directly select a consignment medical institution and immediately know when a residual vaccine occurs in that institution. You can select up to 5 outsourced medical institutions.
Jeong Eun-kyung, head of the Corona 19 Vaccination Response Promotion Team, said, "If you receive vaccination, you can significantly reduce both the possibility of corona 19 infection and the risk of death. We expect that more people will be able to participate in vaccination through this system reorganization." said.
On the other hand, reservations for the remaining vaccines are completed in the order of reservation application, and the vaccination vaccine is AstraZeneca (AZ). Those who have already received vaccinations, those who have been vaccinated in advance, and those under the age of 30 (born after January 1, 1992) who are not recommended for AstraZeneca vaccination are not available.
Author/ Translator: Jamie Kim
Bio: Jamie Kim is a technology journalist. Raised in Hong Kong and always vocal at heart. She aims to share her expertise with the readers at blockreview.net. Kim is a Bitcoin maximalist who believes with unwavering conviction that Bitcoin is the only cryptocurrency – in fact, currency – worth caring about.