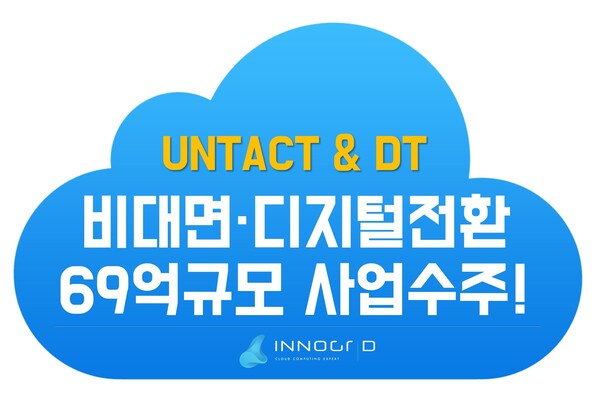 [Digital Today Reporter Hwang Chi-gyu] Cloud platform company (CEO Myung-Jin Kim), following last year's multi-cloud-based digital transformation (DT) business, such as Chonnam National University, this year, in the first half of the non-face-to-face business fields such as remote digital collaboration platform, cloud flagship project, It announced on the 25th that it has won an order of 6.9 billion won.
The development of the SW integration platform for non-face-to-face remote digital collaboration focuses on the development of a standardized SW integration platform so that individual SW systems (ERP, etc.) can be used as a single system for non-face-to-face remote collaboration.
It is jointly developed by InnoGrid, Ingent, and Tobesoft, and supported by the Information Communication Planning and Assessment Service (IITP).
InnoGrid is moving the location-based transportation disadvantaged to reinforce mobility and convenience of the transportation disadvantaged by using cloud, location-based, and spatial information in order to resolve the restrictions on the current information system and the transportation disadvantaged people use information related to transportation. Develop a support system.
It also wins the government cloud flagship project project, builds VM Tech cloud (SaaS) conversion consulting and provides geotechnical support.
Last year, Innogrid also won projects such as building a multi-cloud at Chonnam National University, building a private cloud at KAIST, and Gwangju Institute of Science and Technology (GIST).
InnoGrid is expanding its digital transformation business to smart contact centers, smart healthcare, smart finance, digital twins, and metaverses with specialized companies in each field such as security, AI, big data, and consulting.
Myung-jin Kim, CEO of InnoGrid, said, "The business environment and work method in the public and corporate markets are rapidly changing to non-face-to-face and digital. Through self-developed high-quality solutions, and through rich experience and consulting, the best partner for non-face-to-digital conversion (DT). Will be."