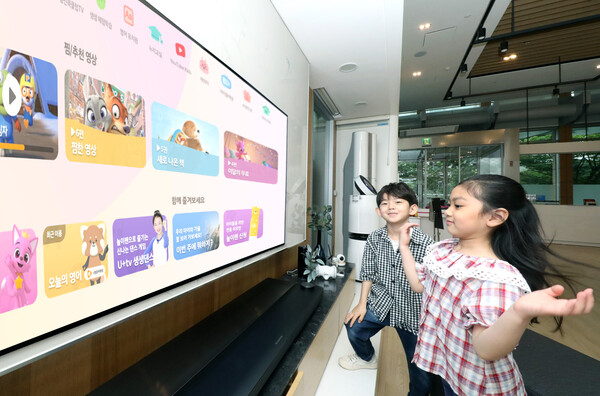 [Digital Today Reporter Baek Yeon-sik] LG Uplus announced on the 24th that the cumulative number of users (including duplicates) of its child-only platform'U+ Children's Country' surpassed 40 million as of the end of April. As of now (based on 1Q results announcement), the number of U+Idle Country users is 50,76,000.
'YouTube Kids' blocks harmful content to children, including'Book Reading TV', which reads famous children's literature awards and best-selling books by a professional storytelling teacher, which started as a kids service exclusively for IPTV in June 2017. It has been released so that children can use the content safely, easily and in a fun way, such as installing an app.
U+Idle Nara has been greatly reinforcing its services every year since its launch, and'Woongjin Book Club TV', which provides the Nuri course and preliminary elementary reading, and English level tests and quizzes that measure the English level of children to learn English words and use AI The Hello Carry quiz show that diagnoses pronunciation, and the'English Kindergarten' that recommends premium English content according to the curriculum of the Cheongdam Language Academy are being upgraded steadily.
In particular, last year, the kids-only remote control'Yupipen' was released, and when you take a picture of a dedicated book, related videos can be played directly on TV, and physical activity contents that can be followed by dancing while watching rhythm and nursery rhymes are also introduced.
The most popular service in the first quarter of this year in U+ Children's Country was'Character','Reading TV', and'English Kindergarten'.
U+tv subscribers can use the U+TV and U+Idle Nara mobile apps for free on IPTV and mobile after connecting the U+TV mobile app.
LG Uplus is listening to customers' voices from various channels to develop U+ Children's Nara service. In particular, in June of last year, the online community'Youple Mom Salon', which was opened for U+ Children's Nara customers, has discovered examples of empathy and reflected them in service improvement. This year, 6 enthusiastic members were selected as the customer management team.
The opinions collected at Youple Mom Salon are used for actual service improvement. The mothers who participated in the Youple Mom Salon delivered opinions such as "I wish I could homeschool while watching TV", and "I wish there would be content that allows interactive interactions." Was born.
In the second update of U+ Children's Country 4.0 held at the end of April, the inconvenience was improved by adding a play lock function of'YouTube Kids' to reflect the opinion that parents are concerned about their children's YouTube video overimmersion.
Moon Hyun-il, in charge of Children's Nara business at LG U+, said, "It is not as easy as many departments and managers always worry and experience trial and error until they plan and release the service that customers want every year, but every time they hear the praise of children's country's Chinfan customers "I am empowered," he said, "I will continue to visit with services that can impress by focusing only on customers this year."