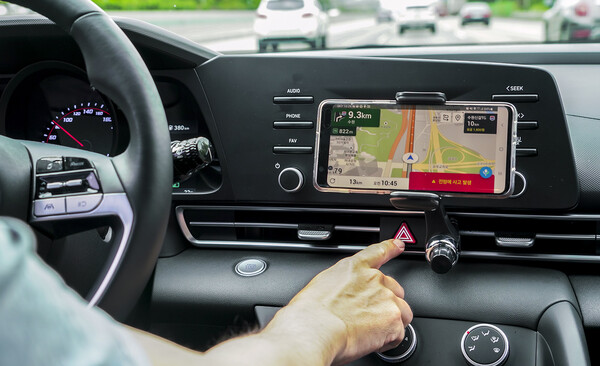 [Digital Today Reporter Baek Yeon-sik] SK Telecom uses its artificial intelligence (AI)-based location analysis platform LITMUS to provide the'accident capture alert' service jointly developed with Korea Expressway Corporation through T-map Mobility's T-map. Available from the 24th.
Litmus is SK Telecom's intelligent location analysis platform. It provides V2X (Vehicle-to-Everything) service with precise location and movement analysis and analyzed information. V2X refers to a technology in which vehicles exchange traffic/safety information with other vehicles, infrastructure, and pedestrians through wired and wireless communication. SK Telecom secures real-time data on the road, such as vehicle movement speed, road traffic volume, sudden stop, and video through various terminals such as T-map, and delivers emergency messages to related vehicles using mobile communication networks and litmus.
Accident Detection Alert is a service that promptly informs rear vehicles of the accident situation on the highway, and based on AI-based technology, the time from the occurrence of the accident to the notification of the vehicle in the rear can be drastically reduced (20 minutes → 3 minutes).
In this service, SK Telecom analyzes the accident symptom data collected on the litmus platform through T-map, detects the accident, and notifies Korea Expressway Corporation, and the Korea Expressway Corporation checks whether an accident has occurred through CCTV, and then an accident occurs through the litmus platform. It is a system that notifies the T-map of vehicles behind within 2km.
Previously, if the driver reported it and the police finally confirmed it and guided it through a navigation or electronic sign, if it took an average of 20 minutes or more from the accident to the radio wave, SK Telecom will capture real-time accident data and notify it through cooperation with the Korea Expressway Corporation. It is meaningful that the time it takes to get to is drastically reduced to an average of 3 minutes.
Park Jong-gwan, head of SK Telecom's 5GX location lab, said, "By integrating SKT's V2X technology and cooperation with Korea Expressway Corporation and Tmap Mobility, we are able to provide a safer transportation environment. I will try to provide a driving experience."
Author/ Translator: Jamie Kim
Bio: Jamie Kim is a technology journalist. Raised in Hong Kong and always vocal at heart. She aims to share her expertise with the readers at blockreview.net. Kim is a Bitcoin maximalist who believes with unwavering conviction that Bitcoin is the only cryptocurrency – in fact, currency – worth caring about.