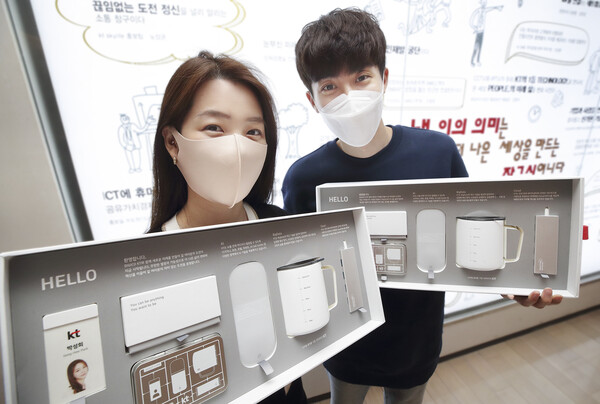 [Digital Today Reporter Baek Yeon-sik] KT announced on the 24th that it has provided a'Welcome k:t' to 174 new employees who joined the company in the first half of 2021.
At the New Year's Ceremony at the beginning of this year, CEO Sue Su-mo said, "For the transition to Digico KT, we must strengthen the ABC capabilities of artificial intelligence (AI), big data, and cloud to lead future growth." It was designed to inform the philosophy and core values. Images that symbolize KT's core capabilities of AI, big data, and cloud were put on employee ID, color business card, wireless mouse, mug tumbler, and USB hub.
Kim Hyung-wook, vice president of KT's Future Value Promotion Department, said, "This Welcome Kit is designed to allow new employees to naturally learn about'Digico' as part of an effort to successfully transform into a digital platform company'Digico KT'." .
Author/ Translator: Jamie Kim
Bio: Jamie Kim is a technology journalist. Raised in Hong Kong and always vocal at heart. She aims to share her expertise with the readers at blockreview.net. Kim is a Bitcoin maximalist who believes with unwavering conviction that Bitcoin is the only cryptocurrency – in fact, currency – worth caring about.