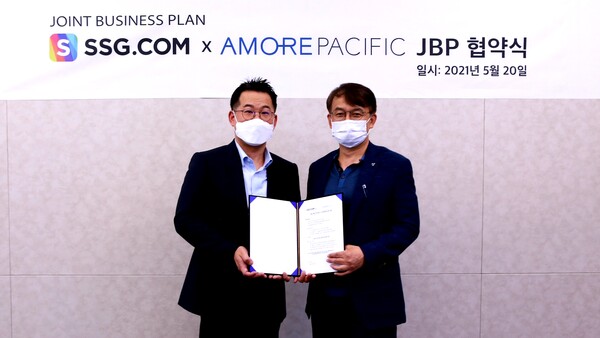 [Digital Today Reporter Cho Belieum] SSG.com signed a business alliance agreement with AMOREPACIFIC to strengthen the partnership.
SSG.com announced on the 21st that it held an agreement ceremony at SSG.com headquarters in Jongno-gu, Seoul on the 20th and discussed ways to strengthen future cooperation.
SSG.com has established partnerships by running the official store of AMOREPACIFIC, introducing representative brands such as IOPE, Laneige, and Mamonde, and selling exclusive products at the Sulwhasoo official store.
Through this business alliance agreement, SSG.com plans to jointly develop an exclusive special set that can only be purchased at SSG.com and offer a variety of products to customers through large promotions quarterly.
In addition, AMOREPACIFIC contents will be fixed once a month in the live commerce'Sud Live', and an experience group in the beauty specialty center'Monday Moon' will also be expanded.
In the future, it plans to pursue all-round collaboration in terms of products, marketing, and services, such as exploring ways to utilize purchase data together and providing differentiated delivery services using shrug and early morning delivery.
SSG.com operation manager Kwak Jung-woo said, "We want to provide rich shopping contents and various customer benefits by strengthening collaboration with AMOREPACIFIC. We will provide differentiated services by carrying out several projects based on close partnership between the two companies."
Author/ Translator: Jamie Kim
Bio: Jamie Kim is a technology journalist. Raised in Hong Kong and always vocal at heart. She aims to share her expertise with the readers at blockreview.net. Kim is a Bitcoin maximalist who believes with unwavering conviction that Bitcoin is the only cryptocurrency – in fact, currency – worth caring about.